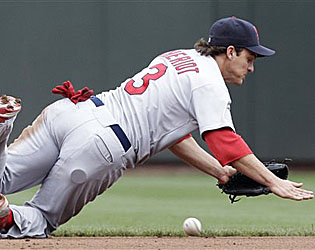 By Matt Snyder
The St. Louis
Cardinals
have scored the most runs in the National League and have the sixth-best ERA in the NL (and tops in the NL Central). Yet, after getting swept by the now-first-place
Reds
, the Cardinals sit 1 1/2 games out of first place with a rather modest 22-19 record. There have been several games blown by the bullpen late, but the defense is also a big-time culprit, and it was on display Sunday in Cincinnati.
The Cardinals made two more errors, tying them with the
Astros
for the most in the NL -- only the
Rangers
have more in all of baseball.
Tyler Greene
easily could have been tagged with another and balls routinely found holes in the slow defense throughout the entire weekend. Worse yet, a five-run rally in the ninth inning Sunday only got the Cardinals to within two runs, thanks in part to how many outs the defense gave away earlier in the game.
Lance Berkman
has been brilliant with the bat, but he can't get to much out there in right field.
Colby Rasmus
is decent in center, but he's battling a sore abdomen, and John Jay is the replacement in the meantime -- and he's better suited for the corners.
Ryan Theriot
and Greene are lackluster and
Albert Pujols
has surprisingly been sub-par at first. Sunday, he lazily tried to backhand a ball and committed an error that would eventually cost the Cardinals a run.
It does appear the two best teams in the NL Central are the Cardinals and Reds. Both can pound the baseball and have solid starting rotations with shaky back-ends in the bullpen. But the true separation point is defensively, where the Reds are stellar and the Cardinals are lacking. It was on display all weekend in Cincinnati and it could ultimately be the deciding factor in the divisional race.
For more baseball news, rumors and analysis, follow @cbssportsmlb on Twitter or subscribe to the RSS feed.