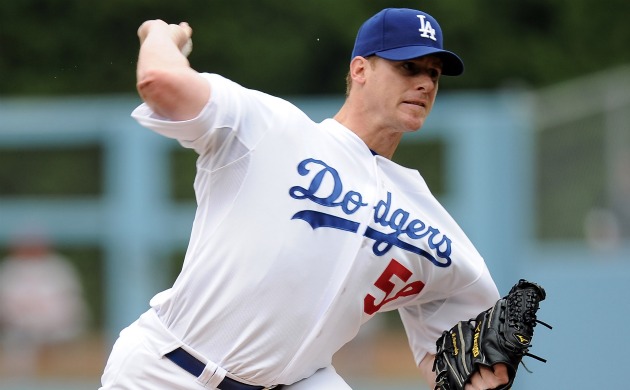 By Evan Brunell
Chad Billingsley, Dodgers
-- Billingsley actually drew the loss, but it was far from his fault. He went eight strong, limiting the
Diamondbacks
to just one hit and an unearned run, walking two and whiffing eight. Hardly deserving of a loss, no? The "loss" dropped his ERA to 3.36, which is 21st in the NL which sounds unimpressive but the 26-year-old appears to be returning to the dominance of his 2008 season. The Dodgers are sorely in need of some good news amid the fracas surrounding the owner, Frank McCourt, and declining attendance. Billingsley is that guy.


Ramon Hernandez, Reds
-- A fine performance for Hernandez, who is actually playing less than
Ryan Hanigan
these days. That should change, as Hernandez contributed a 3-for-3 night with two runs scored and two RBI, adding a walk and punching two home runs off of
Kyle McClellan
. The night, which was already high in tension given
Johnny Cueto
's first start against St. Louis since effectively ending
Jason LaRue
's career, ended in a 7-3
Cardinals
victory. The win pushed the Reds to half a game ahead of St. Louis for the divison lead.
Brad Bergesen, Orioles
-- Who saw this coming? Bergesen is a good-enough No. 4/5 starter, but a complete game against the first-place
Rays
, limiting them to four hits? Yeah, didn't see that coming. Yet, that transpired Saturday as Bergesen punched out five Rays to one walk. Sadly, this probably is his career highlight, but it's quite a fine one, indeed. The win was his first of the year against four losses and pushes Baltimore to two under .500, with Tampa Bay holding onto a two-game lead over the
Yankees
thanks to a suddenly surging
Red Sox
taking down New York.
---
Juan Rivera, Blue Jays
-- Rivera did end up scoring a run in the 11th thanks to walking, but prior to then he was 0-for-4 with four strikeouts. That's just not going to fly, especially since Toronto has been trying to deal Rivera and his slightly-bloated contract the second they gladly took it from the
Angels
to dump
Vernon Wells
. Rivera is at .217/.314/.283 on the season. At this rate, not only is he untradeable, but he's at risk of being released by Toronto if and when they deem Travis Snider ready to return.
Aaron Harang, Padres
-- Harang put together his fourth straight disastrous outing by turning in a 4 1/3-inning effort against the
Rockies
, giving up seven runs, four walks and seven hits. He punched out a paltry seven, and Harang's ERA is all the way up to 5.05. Not exactly what people expected after his hot start to the season combined with his new home in Petco Park. He'll get a chance to right himself next week against the
Brewers
at home.
Gavin Floyd, White Sox
-- Floyd has been pretty good for the White Sox and has been one of the saving graces of their brutal season, but Saturday he contributed to it with five earned runs in 4 1/3 innings against the
Athletics
, which isn't easy to do in Oakland's park. Floyd's been so solid this season, the effort only pushed his ERA to 4.22.
For more baseball news, rumors and analysis, follow @cbssportsmlb on Twitter or subscribe to the RSS feed.