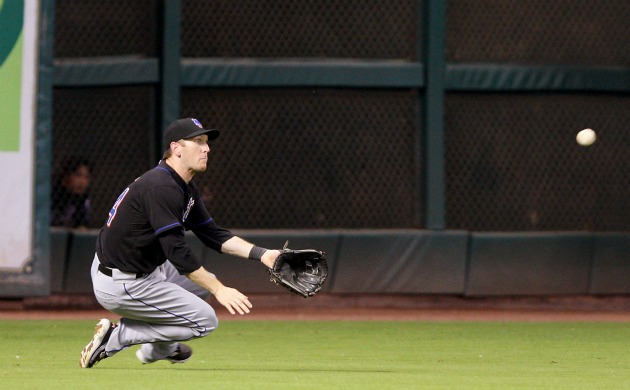 By Evan Brunell
Jason Bay
... center fielder?
That's a possibility as manager Terry Collins noted Saturday, as he wants to get 22-year-old
Fernando Martinez
in the lineup here and there before
Angel Pagan
returns from the disabled list.
"[Bay] would do it in a second," Collins told
ESPN New York
. "There's a possibility of that happening. I don't know when that's going to be, but I think we certainly need to consider a move like that once in a while just to get [Martinez] into games."
Martinez has been ripping the ball at Triple-A and could be
Carlos Beltran
's permanent replacement in the outfield. The
Mets
wanted him getting regular at-bats in the minors and were forced to recall Martinez when
Ike Davis
went down with an injury. However, Collins wants to avoid using Martinez in center, the position he has played 231 out of 342 outfield games down the farm. F-Mart has an arthritic knee, that age age 22, is already comparable to Beltran's and Collins wants to avoid as much wear and tear as possible, given the bright future he has in New York.
"At his age, he's got a similar leg to what Carlos has got," Collins said. "It's not that you worry about him pulling a muscle or something. It's just the wear and tear causes this guy to miss time. We want to try to avoid that if we can. ... There's no question he's going to have to deal with it his whole career. There's nothing you can do anymore. I mean, the wonders of modern medicine certainly might come up with something soon to relieve the issues of the arthritis that has set in there at a young age. But he's just going to have to deal with some discomfort, as Carlos does on a daily basis."
As a result, that pretty much leaves Bay as the only option to play center if Martinez is to play in a game, unless one of Bay or Beltran is benched, like the latter is Saturday
with an eye issue
. Martinez is in right field as a result, with
Scott Hairston
in center. Problem: Bay is defensively challenged, only has 37 career games in center and hasn't played there since 2005. It's not exactly a great idea, but the Mets don't have many alternatives at the moment.
One alternative -- even though that would be just one game -- is Carlos Beltran. Collins had previously said Beltran would not play any other outfield position other than right, but appears to be rethinking that as long as it was one game.
"Again, I think it's unfair. He's very, very comfortable right now in right field," Collins said. "I think the fact that he's out there [in right field] is what's kept him in the lineup this much. I talk to this guy every day. So if that's what we think is the best move, I know one thing: Carlos Beltran will be open to anything he can to do to help this club. He's done it so far. He won't change now."
For more baseball news, rumors and analysis, follow @cbssportsmlb on Twitter or subscribe to the RSS feed.