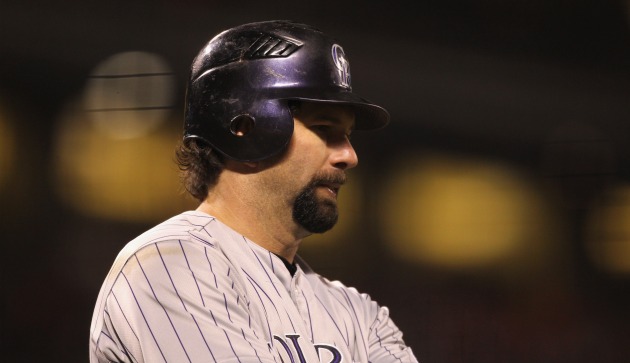 By Evan Brunell
Todd Helton
is far from the Helton of old, but is proving to be a nice revelation for the
Rockies
this season. The lifelong Rockie has been debilitated by injuries for so long that his days as one of the game's elite power-hitters is a distant memory, but he's still a capable addition to Colorado's lineup.
Now 37, Helton is hitting .308/.367/.509 on the season with four home runs, flashing power not seen since 2005. Interestingly, he's currently pacing to post a career-worst walk rate of 6.7 percent, but the Rockies will gladly exchange the .400-plus OBP for a few more longballs, especially as the team is currently struggling to win games and put runs on the board. Helton's mitigating his low walk rate by striking out much less than he has over the course of his career. After last season's career-high mark of 22.6 percent, he's all the way down to 10.9 percent, behind only his first full season way back in 1998, when he struck out just 10.2 percent of the time.
Helton left Friday's game with left-calf tightness after doubling in the sixth for his ninth on the year, but it's not considered to be serious. That's a good thing, as
Jason Giambi
can't sustain a starting job any longer and the team needs
Ty Wigginton
at third base. Helton's even holding his own against left-handed pitchers despite a disparate platoon split.
Helton may once have been considered a potential 500-home run hitter, especially as Coors aided his way toward 221 blasts in six seasons for 40 percent of his career total despite playing into his 15th season. That's what bad back problems will do to you, as the most games he's played in over the past three years are 2009's 151, with 2008 checking in at 83 and 2010 at 118. This year, he's pacing 144.
Helton originally signed a nine-year, $191.5 million deal with an option back in 2003 but ripped up the final guaranteed year of his deal -- this season -- in spring training of last season, converting his $4.6 million buyout for 2012 into a signing bonus while reducing his 2011 payout from $19.1 million to $6 million, with $13.1 million deferred. He also extended his deal an additional two years, getting paid $4.9 million in 2012 and $5 million in 2013. That saved the Rockies a ton of financial flexibility to field a winning club both this season and next year, but had minimal impact on the recent long-term extensions for
Carlos Gonzalez
and
Troy Tulowitzki
.
At this stage in his career, Helton's value is mostly tied up in batting average with a career line of .324 and a discerning eye. That eye's gone by the wayside and his above-average power has ticked up, but it's too early to say whether this is an aberration or a new way of approaching things. Either way, his production so far this year has been a large reason why the team is still hanging onto first place, tied with San Francisco.

For more baseball news, rumors and analysis, follow @cbssportsmlb on Twitter or subscribe to the RSS feed.