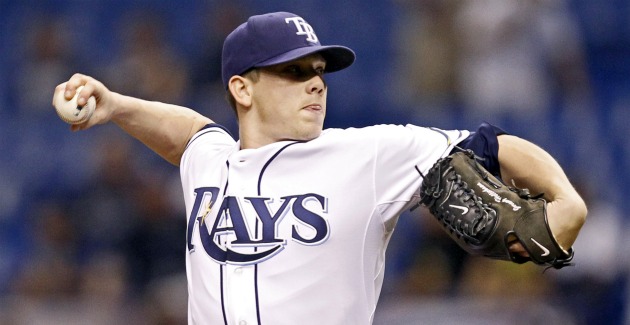 By Evan Brunell
Jeremy Hellickson, Rays
-- The rookie needed 120 pitches to put together a dominating performance, a career high, but what a performance it was. He blanked the
Orioles
in a complete game, allowing a paltry four hits and one walk while whiffing three and set another personal best by going longer than seven innings, also a career first. Hellickson has a pristine 2.98 ERA on the year, but is doing just fine in replacing
Matt Garza
. While he's likely got some adjustment troubles ahead of him as teams and hitters get a book on him, he's for real.
Ricky Romero, Blue Jays
-- Romero came pretty close to matching Hellickson, but fell one out short but still took out the
Twins
on four hits, three walks and eight punchouts. Romero's ERA dropped to 3.35, which hides the fact that two of his last four starts had been anything but strong. He got rocked against the
Tigers
last time out, giving up six runs in 3 1/3 innings. Boston also forced him out of the game with one out in the fifth on April 18 with five runs, but ran his record to 3-4 with the outing. The 26-year-old has really developed into a nice pitcher.
Cameron Maybin, Padres
-- Are we seeing a breakout? Maybin posted his second-straight four-hit effort, tacking on three runs and RBI apiece while also drilling two home runs; one in the fifth off
Jorge De La Rosa
and a two-run shot against
Matt Belisle
in the seventh. San Diego ended up losing the game 12-7 to the
Rockies
however, and dropped to 14-23. Maybin, who spent years tantalizing Florida with his potential, now has a .273/.348/.453 line on the year and is benefiting from a change of scenery (and consistent playing time). He struggles in Petco Park, but who doesn't?
Honorable mention
--
Justin Verlander
took a no-hitter into the sixth
, sparking dreams of matching Johnny Vander Meer as the only two pitchers to throw back-to-back hitters. Alas,
Melky Cabrera
had something to say about that.
---
Twins offense
-- Romero is no slouch as a pitcher, but four hits? Really? Minnesota's pathetic effort dropped the team to 12-24, and the AL Central favorites are now all but dead and buried. The hits came from the Nos. 1, 2, 4 and 5 hitters and were all singles. It's tough to fathom, but the Twins have baseball's worst offense, easily behind the
Mariners
and Padres with 113 runs scored. San Diego is second to last with 127, so it's not particularly close. Yes,
Joe Mauer
is out and
Justin Morneau
isn't the same, but Minnesota really should have done a better job securing depth in all aspects of the roster.
Coco Crisp, Athletics
-- A risk, and that's exactly what it was as it didn't work out. Crisp was caught stealing home in the eighth inning on a straight steal, and the
White Sox
eventualy edged the A's 4-3. "I sorta stutter-stepped instead of just going ahead and going through with it," Crisp told
MLB.com
after the game via Twitter. "That's what made it close in his favor and not mine." Overall, Crisp went 0-for-3 atop the lineup with a walk. It might be high time for skipper Bob Geren to hightail Crisp's .250/.273/.379 line out of the leadoff spot as the A's sink to 19-19, one game behind the
Rangers
and an additional half-game behind the
Angels
.
Dustin Moseley, Padres
-- And that's why you don't believe in hot starts. Moseleay, who had a 1.63 ERA through six starts, has now turned in back-to-back duds. It's not fair to Moseley to consider him a bad pitcher, especially given he still has six strong starts, but he doesn't belong in the conversation with upper-echelon pitchers and his new 3.40 ERA -- while still a touch high -- is far more representative of his skills. He couldn't give Maybin and San Diego a win by drawing his fifth loss of the year (and that's why counting on win-loss records is ludicrous) by giving up six runs and nine hits over four innings, walking two and striking out three.
Dishonorable mention
--
Brandon League
blew his third straight save and now has an
unenviable place in baseball history
as his recent string of games have given him the worst streak a relief pitcher has put together in history.

For more baseball news, rumors and analysis, follow @cbssportsmlb on Twitter or subscribe to the RSS feed.