By Evan Brunell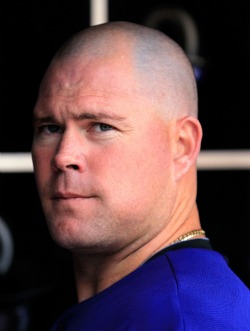 Ian Stewart
's time in Colorado might be done as the third baseman was demoted back to Triple-A after his latest stint ended in a 1-for-21 showing, bringing his overall batting average to .064 with three hits in 64 at-bats.
"I know I'm at a crossroads with the team," Stewart told the
Denver Post
. "Hopefully it goes the right way because I don't want to go anywhere else. This is where all my friends are. It's everything I know."
Stewart did admit that the possibility of a trade was broached friday morning in a meeting with GM Dan O'Down and manager Jim Tracy.
It's clear that Stewart has nothing left to prove at Triple-A, but for whatever reason just isn't putting it together at the major-league level, and it's time for him to move on and see if he can turn things around elsewhere. There's the potential in Stewart to bash 30 home runs and drive in 100, but Colorado's doesn't appear to be the place, with Tracy delivering harsh words recently about Stewart's production and intimating it may be time for Stewart to move on if he can't turn things around, which may have been an attempt to motivate him.
"They said 'We're not going to trade you," said Stewart. "They still feel like I can be a big part of the organization. But it's like Tracy said, it's time to fish or cut bait, so we'll see.
"I don't get the sense they're just ready to let me go at the snap of a finger. I get the sense they still believe in me and they feel like I can help this organization out this year."
Part of Stewart's issues are that he feels he has not received consistent playing time to show what he can do.
"It's tough," he said. "It weighs on your mind big time when you've had success up here and you know what the organization expects from you and you expect from yourself and it just doesn't show up. It's tough when you look up at the scoreboard and see your numbers."
Now, Tracy says the just-activated Ty Wigginton (pictured) will receive the majority of starts at third, although Jose Lopez and Jonathan Herrera should snag some time at the spot. And the Rockies are hoping that Wigginton can kick off a hot streak to help withstand Colorado's struggles. Wiggy's 13 home runs last April and May before tailing off indicated to the Rockies that he could carry a team for a bit, and that's exactly what they're hoping happens.
"We're looking for a hot hand, it's that simple,'' Tracy told the
Post
. "Obviously, with what we have going on right now on the offensive side of things, it's a guy you certainly want to take a shot with and plug in there and see if he can be helpful in getting us jump started.''
Wigginton had a .233/.309/.383 line in 69 plate appearances before going down with an oblique injury. He is in Friday's game at third batting sixth.

For more baseball news, rumors and analysis, follow @cbssportsmlb on Twitter or subscribe to the RSS feed.