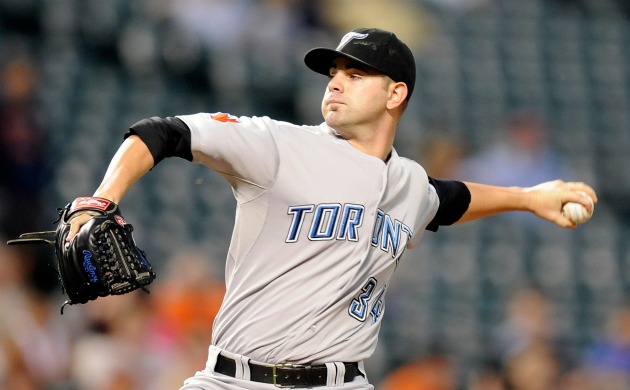 By Evan Brunell
Marc Rzepczynski
had equipped himself well as a starting pitcher the last two seasons, but found himself forced out of the rotation this season.
At the same time, Toronto's projected bullpen lacked a left-hander after seeing
Scott Downs
head to the
Angels
, so Rzepczynski saw an opportunity.
"We had a lot of young starters coming into spring training and with the off-season moves the team made we didn't have a lefty in the pen," Rzepczynski told the
Toronto Sun
. "So, I wasn't totally shocked with the idea of becoming a reliever."
It may seem odd for a team to convert a young left-hander like Rzepczynski to the bullpen, especially in light of his 3.66 xFIP in 11 starts back in 2009, plus a 4.15 tally in 12 starts and two relief appearances last season, indicating that he could be a serviceable No. 3 or 4 starter in the majors, but with a fastball that averaged under 90 mph and the era of crafty lefties dissipating, it wasn't clear if "Scrabble" -- as the Jays blogosphere calls him given how high-scoring his last name would be in, you guessed it, the game Scrabble -- could stick in the rotation.
There's no question about his ability to stick in the bullpen now that he's impressed in the early going.
"He's on a steady pace to become one of the better relievers in the game," said manager John Farrell. "His velocity has climbed and he's got multiple weapons to get both left and right hand hitters out. We can put him in there against anyone."
The 25-year-old has seen his fastball velocity climb to an average of 90.9 mph and has spiked in his last two appearances, running it to 93 on his team-high 18th appearance May 10th. That's a significant difference for the lefty who is fulfilling the tried-and-true beliefs that starters who convert to relievers see their pitches tick up in velocity because they don't need to keep energy in reserve to go seven innings.
"Pat Hentgen [Toronto's bullpen coach] told me to attack," Rzepczynski noted. "Early on, I was trying to be too fine, trying to be too cute. As a starter you're always saving something for the third or fourth time you face a hitter. I don't have to think about that now. I just go out there and give 'em everything I've got.
"I threw relief a lot in college so I took some things from that experience but it really started last year with Downs, both of us are left-handed, two-pitch [fastball, sinker] guys. There isn't one guy who's brain I haven't tried to pick."
Rzepczynski is part of a Jays bullpen that has pitched almost half of Toronto's available innings this year, running a 127 1/3 total as Toronto starters struggle to make it through the sixth inning.
"There's a quiet confidence [among the relievers]," Rzepczynski said. "We're not going to be an out-going, cocky group. We all have confidence in each other that if one day one guy can't do the job; the next guy will. Like the other day, I had confidence [Jon] Rauch was going to get me out of a jam; just like I felt [Jason] Frasor had confidence I'd get him out of a jam. Right now everybody just feels good about themselves and the guy next to them."
Rzepczynski isn't alone in enjoying a transition to the bullpen, as the
Mariners
'
David Pauley
is enjoying his own renaissance. Pauley had an intriguing curveball back in his
Red Sox
days after coming over from San Diego when he made a few spot starts but was ultimately a fringe starter that bounced to Baltimore and Seattle and their respective minor-league affiliates before settling in as a reliever this season.
Pauley leads all AL relievers in innings with 23 2/3 and has a pristine 1.16 ERA with a 13/5 K/BB. He doesn't miss many bats and has a very low batting average on balls in play, so he's not this good, but does seem poised to pair improved command with a nice role as a middle reliever with the ability to eat up innings.
"I'm just doing what I do best; being aggressive with hitters with my pitches, keeping the ball down and trying to get outs quickly in the count," Pauley told the
Tacoma News-Tribune
. Pauley's quick work has allowed him to pitch multiple innings without breaking a sweat -- he once tossed four innings against Detroit and only tossed 32 pitches. Compare that to a recent inning by
Daisuke Matsuzaka
in which he tossed 37 pitches in just one inning.

For more baseball news, rumors and analysis, follow @cbssportsmlb on Twitter or subscribe to the RSS feed.