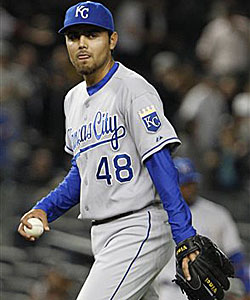 By Matt Snyder
Royals
closer
Joakim Soria
has a 4.30 ERA with a 1.36 WHIP and two blown saves in eight chances so far in 2011. He entered the season with a 2.01 ERA and 0.99 WHIP in 255 career innings. He'd converted 132 saves and only blown three saves in each of the past three seasons.
While 14 2/3 innings in 2011 is a pretty small sample, it's evident this has not been the Joakim Soria we grew accustomed to seeing for the past four seasons. He was consistently one of the game's elite closers and now all of a sudden -- at the ripe age of 26 -- he's pretty vulnerable. So, what gives?
Maybe it's because he's distanced himself from the "Mexicutioner" moniker. I kid, I kid.
Usually with a small sample of futility for a pitcher who should be better, the first places you look are FIP, xFIP and BABIP. Any of those stats should tell you whether or not his poor performance is a reflection of bad luck -- stuff like a bunch of weak hits finding holes and falling between outfielders -- or if he's really causing the problems. In Soria's case, he hasn't been unlucky.
FIP: 4.25 against a 4.30 ERA
xFIP: 4.612 against a 4.30 ERA
BABIP: .267 against a career mark of .257
Soria entered the season striking out 9.9 batters per nine innings while walking just 2.5 per nine. This season, Soria is only striking out 5.5 hitters per nine innings and is walking 4.3 per nine. That's a pretty awful K/BB rate, especially for a guy who used to have a stellar mark in that category.
Less control and missing far fewer bats is easily the reason Soria's coughing up runs (and games) at a much higher rate than ever before, in addition to his inability to strand runners as much as he has in year's past (66.3 percent left on base this year, and his career mark is 83.5 percent).
If you look at his pitch selection on
Fangraphs.com
, there's a small indication he may have less confidence in his fastball this season. First of all, it's the slowest it's ever been. Secondly, Soria's throwing a higher percentage of sliders and changeups than he ever has before in his career.
Assuming Soria's healthy -- and there's every reason to assume as much -- odds are Soria works himself back into a groove sometime soon. He might need to throw less sliders and more heavily pound the zone with his fastball to do so. When he starts missing bats, the strand rate will go back up and his ERA will come down. He's definitely done enough the past handful of seasons to earn the benefit of the doubt in a bad six weeks.
For more baseball news, rumors and analysis, follow @cbssportsmlb on Twitter or subscribe to the RSS feed.