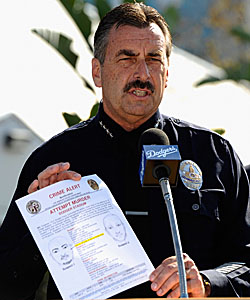 By Matt Snyder
You might recall that back on opening day,
two cowardly
Dodgers
fans jumped Bryan Stow -- a
Giants
fan wearing a Giants jersey at Dodgers Stadium -- and beat him into a coma. The two were reportedly screaming obscenities about Stow being a Giants fan, meaning the motivation behind the beating was simply that they had different taste in favorite baseball teams.
Since then, Stow has been fighting for his life while the two low-lifes -- who, sorry, I refuse to call "men" -- have remained at large.
Fortunately, Stow's condition has improved enough that he's going to be transferred back closer to his home. From
the website his family has been running
since the tragic day, here's the latest on his condition:
Bryan has been responsive to stimulation, and while he doesn't do it on command, his eyes have been opening. He doesn't focus, but Dr. Zada said it was something. We had not been getting eye movement, except within the past few days, with them opening today. Again, not sure if its involuntary, but it's another "we'll take it" moment.
That's great news. Hopefully he continues to progress.
As far as the search for his assailants, the LAPD has taken quite a drastic measure. Thursday, about 200 billboards in the LAPD area showed the sketches of the two perpetrators advertise a $100,000 reward for any help in bringing the suspects in. (
SantaCruzSentinel.com
) There are another 100 on the way, too. Give credit to Lamar Advertising Co., because it donated the billboard space (to see
a picture of the billboard, click here
).
"I think it's a great thing that this company's doing this," LAPD detective P.J. Morris told the Sentinel. "I think it will certainly generate more people calling. Anything out there that can generate interest in the public, the better."
Hopefully this leads to the capture of the two suspects. I believe it goes without saying that the type of people who would jump a guy from behind and beat him senseless due to having a different favorite team are also the types of people who would brag to people about doing so. It's possible they're also the type of people who would have friends who would easily sell them out for a cool 100 grand.
The billboards are certainly unconventional, but it's good the city of Los Angeles is doing whatever it takes to make sure justice is served in this case.
For more baseball news, rumors and analysis, follow @cbssportsmlb on Twitter or subscribe to the RSS feed.