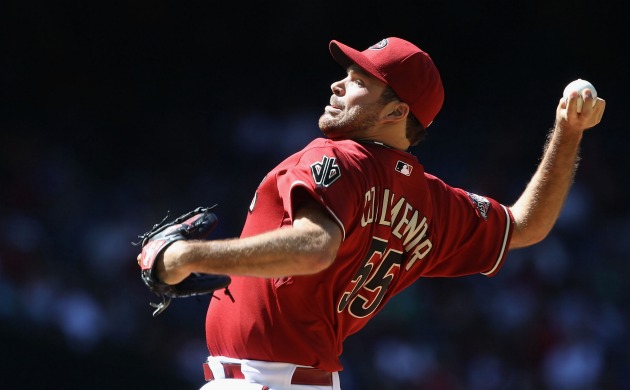 By Evan Brunell
You know about the top of the
Diamondbacks
rotation:
Ian Kennedy
is pitching like an ace and
Daniel Hudson
is coming off two solid starts that give the Diamondbacks a nice core. However, the rest of the rotation has been so horrendous (Hey Jerry DiPoto: How's Joe Saunder's ability to win these days?) that the starters' ERA ranks third worst with a 4.86 mark.
Arizona already took one step toward fixing the issue by booting Barry Enright to the minors and installing
Josh Collmenter
. The righty will be making his first career start after debuting earlier this year as a reliever. Collmenter (pictured) had an impressive stint in Double-A's rotation last season before Triple-A proved difficult. He only received one start at Triple-A this year before the D-Backs dipped down, so it's tough to imagine Collmenter stepping in and performing immediately even if he could yet emerge as a solid back-of-the-rotation option.
Couple that with
Armando Galarraga
's 5.50 ERA that could cause 'Zona to go right back to Enright, and you have a full-blown crisis on your hands, one GM Kevin Towers would love to solve.
"I think we're certainly going to look in-house first, but that doesn't mean we're not looking externally as well," Towers told the
Arizona Republic
. My hope is that Collmenter gives us a shot in the arm here and the next two or three weeks (Zach) Duke also gives us another option."
Sure, but even if Duke returns, he's hardly going to morph into a permanent answer -- if he even sticks in the rotation. Remember, Duke flamed out of Pittsburgh. Tough to do that.
Towers, who is known for his wheeling and dealing, would no doubt like to swing a trade and is hoping to use a bench player like
Willie Bloomquist
to make that happen. The Diamondbacks will have a "logjam" of bench players once Bloomquist comes back from the DL along with
Geoff Blum
. Blum's trade value is next to zero as he has yet to debut on the year, while
Josh Wilson
is merely filler. The team could release
Russell Branyan
to make room for Blum, but it doesn't make sense to remove a power bat off the bench who could end up figuring into the first-base mix more extensively before long.
"Are there clubs that have some depths at Triple-A?" Towers asked. "Maybe back-of-the-rotation-type starters that are a fit for us and maybe one of our bench guys is a fit for them. Those are the things we're looking at externally, but nothing's hot right now."
It's difficult to speculate on who would be interested in acquiring Bloomquist as there's so many possibilities when you start talking back-of-the-rotation starters and bench players, relatively fungible pieces. One team that springs to mind is the
Yankees
, who will have to bump one of
Freddy Garcia
or
Bartolo Colon
from the rotation. It's highly unlikely New York would be interested in sacrificing any pitching depth, however.
Teams are only just getting started making phone calls to other organizations for major-league pieces. A handful of deals should start happening soon, and if we know one thing about Towers, it's that he's likely to be among the first to execute a trade.
For more baseball news, rumors and analysis, follow @cbssportsmlb on Twitter or subscribe to the RSS feed.