By Evan Brunell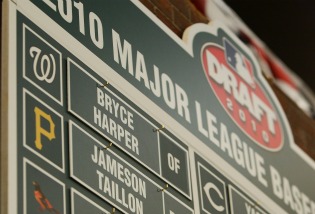 This time around, the
Nationals
will be in the unique position of picikng sixth in the Rule 4 draft, more commonly known as the amateur draft. The last two seasons, Washington has grabbed the first pick and used that to push the franchise significantly forward with the selections of
Stephen Strasburg
and Bryce Harper.
While picking sixth is a far cry from first, the Nats picked the right year to drop down, as this year's draft is extraordinarily deep with no clear No. 1. That will give Washington plenty of options and money to toss around. The team will be able to spread out its draft budget more effectively this year now that they won't have to pour most of it into their top selection.
"I think we have a good idea of who will be there [at No. 6]," Nationals director of amateur scouting Kris Kline told the
Washington Post
. "I think we have a good shot of getting the players we want. You have to have a Plan B and a Plan C. It's a good year. That part of the draft, there's so much depth. There's going to be a lot of guys to choose from."
The Nationals will likely take a pitcher, although they fully intend to draft the best player available regardless. However, if two players are evenly ranked, it appears as if Washington will go pitching as they're not confident of the depth in their system despite grabbing Sammy Solis, A.J. Cole and Robbie Ray to significant deals via last year's draft.
"That's one thing we're going to focus on, to be honest," Kline added. "That's something we're lacking in our system. You can never have enough of that. And this is a very good year to focus on that. This is a very good draft. There's a lot of arm strength out there, a lot of big velocity."
Names that won't be there at No. 6 are UCLA righty Gerrit Cole, who is in the hunt for No. 1 overall to the
Pirates
and Virginia lefty Danny Hultzen, who is linked heavily to the
Diamondbacks
at No. 3.. But Vanderbilt's Sonny Gray, Georgia Tech's Jed Bradley, UCLA's Trevor Bauer and high schoolers Dylan Bundy and Taylor Guerrieri will be there for the Nats and it would be a surprise if one of the names were not selected.
For more baseball news, rumors and analysis, follow @cbssportsmlb on Twitter or subscribe to the RSS feed.