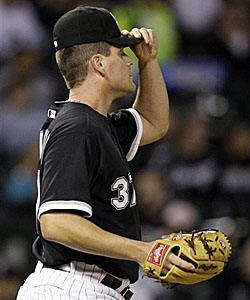 By Matt Snyder
White Sox
relief pitcher
Matt Thornton
, formerly the closer, has four blown saves this season against just one save. Just as anyone reliever should, Thornton hates blown saves. Except he actually hates how they are scored.
"If you are not in the ninth inning, I don't think it should be a blown save. Also, when you come in with the bases loaded and one out in the seventh inning, that's not a blown save. It's ridiculous. You start the inning clean yourself and you are the last pitcher out there. You come in and don't get the job done. That's a blown save." (
MLB.com
)
Well, he does have a few good points. I always think it's weird to see guys who threw in the sixth or seventh inning tagged with a blown save, because there was no chance the guy was going to get a save. And obviously if you inherit runners from someone else, it's hard to place the blame solely on the shoulders of the guy who followed the real problem.
Here's the thing, though: Stats aren't perfect and they aren't always intended to be. It's a pretty rudimentary measure of a player's worth to just look at saves and blown saves, just as it is wins and losses for starting pitchers. Thornton is trying to ensure individual stats are purely individual stats, but in a team sport like baseball with so many moving parts, there are few stats that are not partially to blame (or aided by) teammates and opposition. But let's just focus on the save here.
First of all, what if the closer is brought in in the eighth with no baserunners and loses the lead then? According to Thornton, that shouldn't be a blown save, but it's the closer and if he finished the game -- which you would guess was the manager's intent -- he would get a save. Are official scorers supposed to read the minds of the managers and decide who was going to get the shot in the ninth before tacking on blown saves? Better yet, why not go ask the manager, Thornton's manager -- the great Ozzie Guillen -- surely would love to talk about the blown save rule after a late blown lead. Who wouldn't?
Secondly, the save -- in and of itself -- is a pretty easy stat to accrue. Sure, there are high-leverage saves that are incredibly difficult and
Mariano Rivera
is definitely a Hall of Famer for all the ones he's handled over the years. But let's remember the save rules. A closer can enter the game with a three-run lead and pitch one inning to get a save. Imagine if pitchers in any other inning were handed the ball and told "just don't give up three runs." Really? It's tough to get three outs before allowing three runs? That's too easy to be a "save," regardless of whether or not it's harder to pitch in the ninth.
How about this one? A closer can enter with the tying run
on deck
and record
one
out to get the save.
So let's say the White Sox are leading 6-1.
Sergio Santos
enters the game, records two outs and then walks the bases loaded before having to be pulled with an arm injury. Thornton is summoned from the bullpen. He allows a grand slam and then walks the next three hitters. (Yes, he would probably be pulled from the game, but please stay with me here, there's a point being made). Then he allows a rocket in the gap that is caught by a diving
Alex Rios
. Yeah, that's a save for Thornton. Five batters faced, a home run, three walks and a diving catch to bail him out -- and it counts the exact same as if he'd entered the game with a one-run lead in the eighth and struck out the only six batters he faced. I wonder if he'd complain about that?
It's obviously a flawed rule. But that's OK. Just see what Thornton has to further say about it.
"Honestly, blown saves don't matter. Who cares if you blew a save? If the team wins a game, it doesn't matter."
Well, Matt, you care. You don't rant about a subject you don't care about. See, I don't talk about Jersey Shore because I couldn't care less about it. I do care about baseball, which is why I just wrote a few paragraphs about why the save rule is flawed. There's a difference.
For more baseball news, rumors and analysis, follow @cbssportsmlb on Twitter or subscribe to the RSS feed.