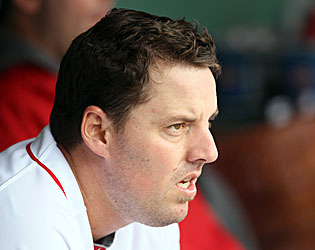 By Matt Snyder
After another awful outing on the hill,
John Lackey
might have revealed he has deeper problems than his pitching effectiveness.
At first, he sounded like a run-of-the-mill frustrated athlete forced to talk to media immediately after a bad performance.
"Everything went wrong that could go wrong," he said. "It's pretty much the story of the whole damn year."
But then things sounded worse. Much worse, in fact, when given context.
"Everything in my life sucks right now, to be honest with you." (
Boston Herald
)
Lackey's never really been the type of quote machine to believe this is a simple overreaction. In response to follow up questions to his last statement, Lackey reportedly just said he'd like his personal life to remain personal. The Boston Herald noted that during spring training Lackey told WEEI.com that his wife was fighting breast cancer and spent the offseason getting treatment. Lackey has not said a word on the subject since.
Last night,
Eye on Baseball's Evan Brunell
suggested the
Red Sox
find a reason to remove Lackey from the starting rotation (this was before the post-game interview happened, so it wasn't insensitive in the least). There are options concerning Lackey's comments after the game -- assuming it wasn't simply blowing off steam. The
Dodgers
placed Hong Chih-Kuo on the
disabled list with anxiety disorder
Wednesday. The Red Sox could find a similar label to throw on a leave of absence for Lackey.
And, really, if Lackey is having such deep-rooted personal demons, the last thing everyone should be worried about is what the Red Sox do with their starting rotation. The concern should be for Lackey and his family.
For more baseball news, rumors and analysis, follow @cbssportsmlb on Twitter or subscribe to the RSS feed.