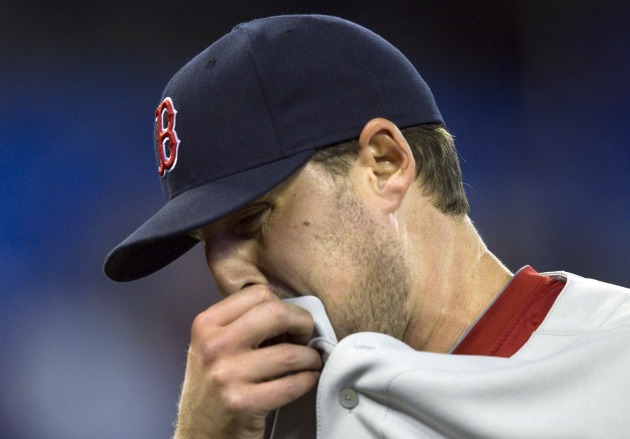 By Evan Brunell
John Lackey
's start Wednesday night can't help but leave a sour taste in your mouth. He was rocked for nine runs, with
Rajai Davis
creating havoc on the bases with four thefts. He gave up nine runs and could not spot the plate whatsoever, throwing just 64 of 118 pitches for strikes en route to free passes. He was fooling no one as he struck out just one and gave up a home run to
John McDonald
.
John Freaking McDonald.


At this point, Lackey is simply too much of a liability to stay in the rotation. His ERA is now an absurd 8.01 with a pathetic 1.81 WHIP. Sure, Lackey's been a bit unlucky with a high batting average on balls in play and low baserunner-strand rate, but it's not luck that's pushing these numbers; it's his ineffectiveness, period. Lackey had his struggles in 2010, but he's never been this bad.
The righty never saw his ERA creep higher than 5.63 last season, which came in his third start of the year. His season ERA only topped 5.00 two other times; driving the 5.63 mark down to 5.09 in his next start, then getting it down to 3.89 before topping out at 5.07 in a late May start before he was under for good and rode a solid second half to a season-closing mark of 4.40.
Yes, John Lackey is only beginning the second year of his ill-advised five year, $82.5 million pact (it was so ill-advised,
I disliked it right from the start
) but it's nigh time for a move. Whether that's Lackey being converted to the bullpen or hitting the disabled list with a phantom injury, who cares? Just get him out of the rotation.
Of course, that's not going to happen. Skipper Terry Francona, despite his moves this season in response to the club's poor start, is not one to lift "trusted veterans" from their role until it's so far past time to make a move, people have stopped caring. (Witness Kevin Millar in 2005.)
Look, Lackey is still an important pitcher that will have a (positive) impact on the team before the season is done with and should still throw up plenty of innings over the next four seasons as a middle-of-the-rotation starter, but the
Red Sox
are now three games under .500 and can't seem to get any type of momentum going. It's time now not to worry about trust or regression to the mean. It's time to worry about putting the best product on the field, and Lackey is not part of that product.
There are two replacements that can step right into the rotation to replace Lackey in
Tim Wakefield
and
Alfredo Aceves
. Wakefield has already made two spot starts and while he was shelled against the
Twins
, he performed well in the other versus Seattle (but who doesn't?). He has a 5.40 ERA in 23 1/3 starts and whiffed three in 1 1/3 innings after relieving Lackey. The other option is Alfredo Aceves, who is serving as long man in the rotation and already has a 4 2/3 inning relief stint to his name. It's hard to look past his 2.63 ERA on the year, cobbled together in 13 2/3 innings although his 7/5 K/BB ratio is less rosy. But it's quite a sight better than Lackeys' 19/18 ratio.
There are options down on the farm, too. Felix Doubront punched out seven batters in 4 1/3 innings on Monday in his recovery from an injury and could earn a promotion in a couple of weeks. Matt Fox, who had a late-year stint with the Red Sox in 2010 after coming over from the Twins, has impressed as well while Andrew Miller's control problems have yet to abate and isn't currently an option. Heck, I'm very close to suggesting Brandon Duckworth, of all people (3.67 ERA in six starts for Triple-A) as a more viable option than Lackey.
Lackey's not going anywhere, though. At least, not yet. The first change that will happen is likely
Jason Varitek
adding Lackey to his ledger, which will push
Jarrod Saltalamacchia
down to just catching
Jon Lester
. The team will want to see if Varitek's influence can calm Lackey down, who was unacceptable in his actions Wednesday night, showing up his fielders when they dared make one small mistake. While it's understandable how frustrated Lackey was, you just don't show up your teammates like that, especially when it's your own fault your brain is being beat in.
Lackey's next start is slated for next Tuesday at home against the
Orioles
and
Zach Britton
. Expect him to make that start with Varitek behind the dish, but the result is likely to only reinforce the notion that it's time for John Lackey to simply go away for a little while.
For more baseball news, rumors and analysis, follow @cbssportsmlb on Twitter or subscribe to the RSS feed.