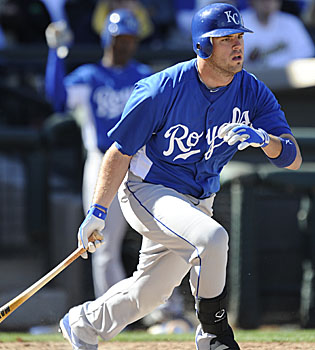 By Matt Snyder
If you've been paying attention to any prospect talk since the beginning of spring training, odds are you've heard the
Royals
have a stacked system. The major-league group is playing above expectations to this point at 18-17 and is already pretty young with the nucleus of
Billy Butler
,
Alex Gordon
,
Jeff Francoeur
,
Melky Cabrera
and nearly the entire bullpen -- including closer
Joakim Soria
-- being 27 years old or younger.
With last week's promotion of
Eric Hosmer
(who is hitting .250 with a .438 on-base percentage through four games), I started thinking ahead to how long it will be until the Royals gave another one of their promising youngsters a promotion to the bigs. After all, only Butler and Soria -- and maybe Gordon -- from the above group were supposed to be part of the nucleus in the next decade when most said the Royals would be a legitimate playoff team.
The three closest to major-league ready from the list of hyped prospects are Mike Moustakas, Danny Duffy and Mike Montgomery.
Third baseman Mike Moustakas is the best bat in the system now that Hosmer's up. He got off to a slow start, but has picked things up of late. He's hitting .333 with two home runs, eight RBI and a 1.002 OPS in nine May games for Triple-A Omaha. We know he can crush the ball, too, because last season between Double-A and Triple-A, he hit .322 with 36 home runs, 124 RBI, 94 runs, 41 doubles and a .999 OPS in 118 games.
He's a third baseman, though, and the Royals are getting good production right now from both
Mike Aviles
and
Wilson Betemit
. There's no reason to make the move now and start Moustakas' service-time clock with guys getting the job done, especially since he's only been hitting well for a few weeks. He's only 22, so there's no rush.
The one area where the Royals do have a concern in 2011, should they stay competitive in the AL Central or Wild Card races, is the starting rotation.
Luke Hochevar
isn't going anywhere, but
Jeff Francis
has been bad and
Kyle Davies
has been worse.
Bruce Chen
has been placed on the disabled list and
Vin Mazzaro
has gotten the call to take his spot. No, Mazzaro isn't one of the stable of ballyhooed prospects. He's a guy who went 10-17 with a 4.72 ERA in 41 games for the A's the past two seasons, though he's only 24 and hasn't been dreadful in the minors. He was chosen over Duff and Montgomery for the time being, but that's not a statement on the two young guns.
Montgomery, 21, has a 2.84 ERA, 1.32 WHIP and 30 strikeouts in 38 Triple-A innings. The 6-foot-4 left-hander probably needs to cut down his walks (21) before the Royals are ready to give him the call. And, again, he's awfully young to be rushed to the majors and have that service clock get started.
Duffy, on the other hand, has a sparkling line in Triple-A. Through six starts, he sports a 2.25 ERA, 0.97 WHIP, 41 strikeouts and just seven walks in 32 innings. He's similar to Montgomery in that he's a tall (6-foot-3) left-hander. Duffy's also doing the same thing this year he did last season once promoted to Double-A, which is mow down opposing hitters.
It probably won't be awfully soon, but your best bet for the next big-time Royals prospect to join the majors is Moustakas due to his immense upside. It might be several weeks or even months, because he would need a chain reaction of things to happen before the call is made. All Duffy needs is for someone in the organization to grow tired of seeing Davies and/or Francis running out there every fifth day and just decide to go with him, so he has a shot to beat the heavily-hyped slugger to Kansas City.
No matter who it is, it would certainly be an exciting time to be a Royals fan -- something that hasn't been said for a long time.
For more baseball news, rumors and analysis, follow @cbssportsmlb on Twitter or subscribe to the RSS feed.