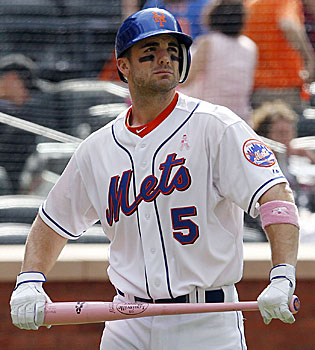 By Matt Snyder
Mets
third baseman
David Wright
has been struggling of late for the Mets, as his average and OPS have dropped to .234 and .739, respectively. He's been dealing with a sore back since a collision with the
Astros
'
Carlos Lee
back on April 19. It's even gotten to the point that Wright was going to be given a rare day off Wednesday, until the game was postponed.
Meanwhile, former teammate
Jeff Francoeur
would like the Mets to give Wright a hand by making a stadium renovation.
"Poor David hits the ball to right-center so well and there it's an out," Francoeur said Tuesday. "To me, you start trying to pull the ball and getting into habits. And I know it's frustrating for David playing in that park."
Frenchy continued ...
"They've gotta shorten the park up," Francoeur said. "It's huge. I'm not saying make it a bandbox like Philadelphia, but they have to do something." (
New York Post
)
So is he right?
Well, not about everything.
Wright's power numbers in 2010 were similar to what they were in 2005-2008, it's just that he took far less walks and struck out at a much higher rate than in those previous years. And in 2009, when Wright was somehow transformed into a slap-hitter before our very eyes, Citi Field actually was home to more home runs than Citizen's Bank Park.
Overall, though, Francoeur could have a point precisely because of what I mentioned. Wright had a season void of power in 2009, so it's possible he made adjustments to his approach consciously trying to hit for more power and those are what caused his strikeout rate to rise while his walk rate went down.
And then there's this. Wright's OPS in Shea Stadium was .958. His current OPS in Citi Field is .854 -- a mark bogged down by 2009, but he still only OPS'd .880 at home last season.
Now, as far as the Mets altering Citi Field. I don't think it's an awful idea, but it shouldn't be done just to help one player. This is a ballpark the Mets will call home for a long time and making adjustments just to give David Wright a bit extra power for the next handful of years would be pretty short-sighted. If you have a ballpark with unusual dimensions, how about tailoring a team to play in the yard.
Maybe keep a
certain speedy triples hitter
who loves those spacious gaps, instead of trading him?
Nah, that would make too much sense. It's the Mets. They like doing things the hard way, so I guess we should expect the fences to be moved in sometime soon -- assuming ownership has enough money.
For more baseball news, rumors and analysis, follow @cbssportsmlb on Twitter or subscribe to the RSS feed.