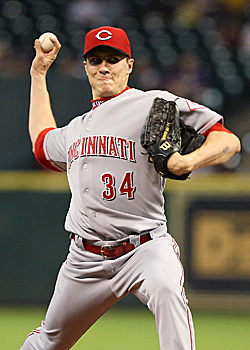 By Matt Snyder
Homer Bailey
had made just two starts since coming off the disabled list this season, but he's been utterly dominant. He's thrown 13 innings and allowed only 10 baserunners (0.77 WHIP) one run (0.69 ERA) while striking out 12 and picking up wins in both.
It could simply be Bailey coming into his own as a top-flight starting pitcher.
Remember, he was the top pitching prospect in the
Reds
' system for a handful of years. He was a first-round draft pick out of high school in 2004 and worked his way into the top-10 prospect lists (for all of baseball, not just the Reds' system) by 2007.
Based on some success in the minors, a necessity in the Reds' rotation and Bailey's immense potential, he was promoted to the major leagues at age 21. Maybe it was too early, because in the next two seasons he would get 17 starts and come through them with a 6.72 ERA and 1.80 WHIP.
He graduated from the bad and moved into the mediocre the next two years, as his 2009-10 line shows a 4.49 ERA and 1.42 WHIP in 39 starts. He did show marked improvement in several areas in 2010 -- namely strikeout rate rising and walk rate dwindling.
Still, it didn't feel like Bailey was coming along fast enough. Much like
Alex Gordon
for the
Royals
, it was too long between hearing about how great Bailey was going to be and then seeing any flashes of it. Just don't forget that Homer's 25th birthday was last week.
He's refined his pitches and continues to improve his control. So it's very possible 2011 is the breakout season for Homer Bailey.
One mitigating factor for many thus far is that Bailey has only faced the
Astros
. The same Astros that are 13-23 and in last place in a weak NL Central. If we're judging the teams based upon what we've seen so far this season, though, the Astros are actually seventh in the NL in runs, fourth in batting average and eighth in on-base percenage. So while they aren't exactly the
Yankees
, the Astros' offense isn't the
Padres
, either. Bailey's next outing is against the
Cubs
, who have a very high average and OBP but have had trouble scoring runs. If he dominates again, the confidence starts to build that his breakout season is here and that only helps guys continue the pace.
If he does, the Reds' chances of winning the Central again just got that much better.
For more baseball news, rumors and analysis, follow @cbssportsmlb on Twitter or subscribe to the RSS feed.