By Evan Brunell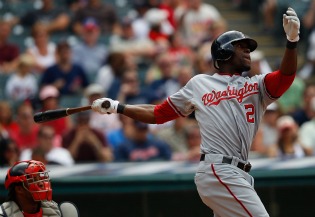 Roger Bernadina took a while to return to the majors, but now that he has, manager Jim Riggleman is hoping the center fielder is up for good, even after Rick Ankiel's return.

"We could use him there at the top of the lineup," manager Jim Riggleman told the Washington Post. Like a lot of things, we're kind of reactionary. We react to how they play. If they play to a certain level, they make that decision easy for us. But he's the more suited guy to lead off for us. We really want that to work."

Bernadina's only received 14 at-bats on the year so far in five games, but in the early going has flashed the potential that could install the 26-year-old as permanent leadoff man with a .286/.375/.357 line. He was in the running for the starting CF job in spring training, but lost out to Ankiel, likely in part due to his .246/.307/.384 line last season in 414 at-bats, which indicated he had a lot of work left to do.

Bernadina didn't quite deliver on that work in Triple-A as he racked up a .270/.352/.381 line with eight stolen bases in 18 games, but as long as he keeps that OBP over .350 and swipes bags at a 30-base clip, he'll be just fine and could help the Nats solve their leadoff issues. While Ian Desmond and Danny Espinosa aren't quite leadoff types, they've received at-bats in the position and struggled before being moved out.

"Bernie is probably the closest one to somewhat of a classic leadoff hitter," Riggleman added. "I think all of them are better suited to hit second. Roger probably, of the three, has got a better chance to settle in there hitting leadoff for us. We'll take a look at that, and hopefully that will get us generating some offense here at the top."

For more baseball news, rumors and analysis, follow @cbssportsmlb on Twitter or subscribe to the RSS feed.