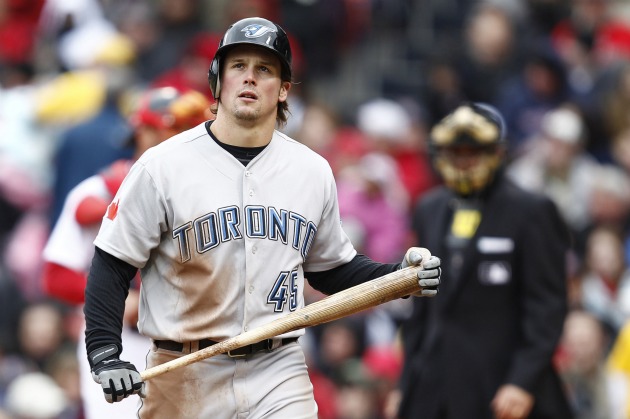 By Evan Brunell

If Adam Lind is forced to go on the 15-day disabled list with a sore back, don't expect Travis Snider to head back to the majors.

Snider was demoted at the end of April to work on his swing after a poor start to the season. While he's turned things around with a .425/.511/.525 line in 47 plate appearances with four doubles, general manager Alex Anthopoulous says the 23-year-old is not ready for a return to the majors.
"Travis is making strides," Anthopoulos told MLB.com. "I had a long talk with our Las Vegas staff, and [hitting coach] Chad Mottola was very encouraged.
"I asked him the same thing anybody would ask me: 'How long? What do you think?' He said, 'I don't know. It could come in a day, it could come in a week, it could come in a month.' But he's encouraged that he's really starting to incorporate some things now into the game."
A.A. added that Snider was gracious about the demotion.
"He knew he wasn't there. At the end of the day, it's about the results, but he knew his swing wasn't where it needed to be for us," Anthopoulous said, who reiterated that Snider could have remained in the majors and hit at the bottom of the lineup, but that wasn't conducive to making Snider reach his potential as a middle-of-the-order hitter. "Even though he could survive because he's so talented, ultimately, the debate of calling guys up comes down to can they come up and survive, but are they doing it the right way?"
The Jays have been getting by with
Juan Rivera
and
Corey Patterson
becoming full-time starters, but the absence of Lind really hurts. The team has been giving first-base prospect
David Cooper
some playing time and while he got the season off to a slow start, he was responsible for Toronto's defeat of Boston on Tuesday night by rocketing a solo home run in the eighth that put the Jays up by one at the time. After an
Adrian Gonzalez
home run the next inning, Cooper delivered a walk-off sacrifice fly in the 10th.
In an ideal world, Toronto would see Juan Rivera hit the way he has been capable of in the past and then trade him in a month or two to create space for Snider. But as Anthopoulous has been clear about, Snider's not coming back to the bigs until the team believes he's ready to be a major part of the offense moving forward.
For more baseball news, rumors and analysis, follow @cbssportsmlb on Twitter or subscribe to the RSS feed.