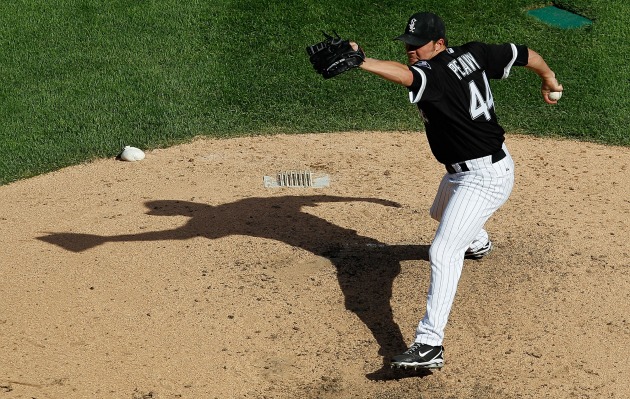 By Evan Brunell
Jake Peavy is set to make his first major-league start on Wednesday since July 6, when he had to leave the game after 1 1/3 innings with a torn latissimus dorsi muscle. Peavy's return will be very interesting to track, as torn lats are not only the most common career-ending injury for pitchers, but the surgery used to mend the shoulder is rife with issues. Usually, an all-arthroscopic (and therefore, less invasive) procedure called a SLAP repair reattaches the labrum, the outer rim of the shoulder socket, back to the shoulder socket using anchors.

Peavy underwent surgery a week later, but deviated from the common method of surgery that is so commonly used with labrum/lat tears. Instead, co-team physician Dr. Anthony Romeo went a different route.

"One-third of players still have shoulder pain after their operations," Romeo said in a press release in July 2010 by his office, the Shoulder & Elbow Resource Center. "Others never get back their fastball or endurance."

That caused Romeo to look for a better way to repair the labrum and believes he may have found such a solution. "A superior labral or SLAP tear often involves the biceps tendon which attaches in the same area," Romeo said. "If the capsule injury and the biceps attachment and the fibrous tissue area around it are not fixed or repaired along with the labral tear, the pitchers will still have pain."

If the biceps tendon is affected by the tear, which it usually is, Romeo contends that the tendon should be repositioned outside the shoulder where the tendon can heal itself. As mentioned, college pitchers have undergone this surgery successfully, as well as recently retired quarterback Brett Favre, who catapulted himself to an All-Pro season at age 40 in some part to the new procedure.

So why hasn't it become the new norm?
My approach has been held back because some are concerned that moving the biceps will affect the throwing shoulder and the ability to throw a major league fastball. But they've lost so many pitchers, [MLB has] given us a [$50,000] grant to find out more about whether also repairing the biceps will affect a pitcher's performance. Using the new grant funds, researchers are studying precisely how Dr. Romeo's approach affects the shoulder's biomechanics. Surgeons will arthroscopically operate on 36 cadaver shoulder joints. After each procedure, they'll measure the joint's range of motion, rotation, and stability. The goal is to compare the biomechanical effects of doing a labral repair with and without performing a biceps repair as well.


If we find out those biomechanics don't change, reassured league owners could make operating on the biceps a standard addition to common labral surgery, especially if the original surgery results in a persistently painful shoulder. Understanding the role of the biceps tendon may end decades of standard treatment for throwers for MLB pitchers and that's why the owners are so interested in this study."

What's at stake are the current and future careers of many major league pitchers, especially the mature pitchers in their 30s and 40s.
Mark Prior was once such pitcher that underwent labrum surgery, along with ex-teammate Kerry Wood. Imagine, then, if Romeo's surgery had been performed on these pitchers. Would the Cubs still have a devastating rotation with Wood and Prior along with Carlos Zambrano and Ryan Dempster? The Cubs will forever be left to dream of what could have been. Pedro Martinez, too, underwent labrum surgery at the end of 2006 after struggling through his second season with the Mets. Could Petey have continued a successful career instead of struggling though three more ineffective and injury-shortened years with Romeo's solution?

If Jake Peavy can return to the majors and pitch successfully, it will go a long way toward making additional pitchers and team owners more comfortable with the procedure. Peavy represents quite an interesting case and success could change baseball the way Tommy John surgery did. No longer will those with torn labrums or lats have their careers come to an end, which will improve the quality of pitchers on the field and could push the game even more away from offense.
For more baseball news, rumors and analysis, follow @cbssportsmlb on Twitter or subscribe to the RSS feed.

Special thanks to Fangraphs for pointing out the press release.