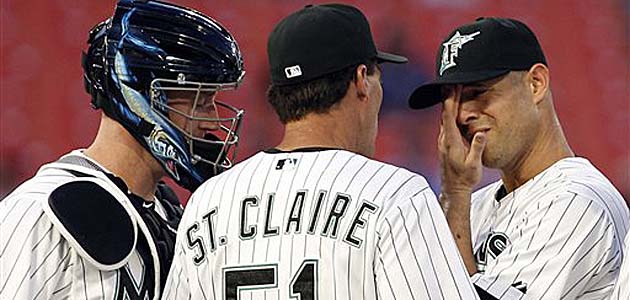 By Matt Snyder
For the first time since the second year of his career -- all the way back in 1999 for the now-defunct Montreal Expos --
Javier Vazquez
is pitching poorly for an NL East ballclub. Last time he was in the NL East, 2009 for the
Braves
, Vazquez was 15-10 with a 2.87 ERA, 1.03 WHIP, 238 strikeouts and finished fourth in Cy Young voting. Sure, his trip last season to the Bronx was a disaster, but he was returning to the NL East this season -- in a pitcher's park no less. He was supposed to be solid.
Instead, he's been nothing short of awful.
Vazquez has a 6.88 ERA and 1.87 WHIP through seven starts. It's relatively easy to simply pick up a quality start these days (six innings pitched and three earned runs allowed would suffice), but Vazquez only has one of those (and it was the six-inning, three-run minimum). He walked five guys that game, too, so it was hardly a good outing. Simply put, you could say Vazquez hasn't had a single good start this season.
Monday night, he gave up nine hits and six runs to the
Phillies
. He lasted only 4 1/3 innings and didn't strike out a single hitter. Nothing is working. Just ask him.
"I wish I had an explanation, but I've got nothing," he said (via
Fish Bytes
). "Just frustrating. I'm embarrassed the way I'm throwing. Things aren't happening right now for me. Nothing's going right, so we've just got to keep working hard, battling, and hopefully I'll get through this. If not, then I'll be in trouble."
One thing that might be an issue is his fastball velocity is down about three miles per hour from 2009 (and all years prior). Throwing low-90s is a lot different than 88. That's where it was last season, too, so it's possible age has gotten the better of Vazquez. He's only 34, but has logged 2,682 2/3 major-league innings. From 2000-2009, he never threw less than 198 innings in any given season, averaging 216 per season in that stretch.
It might not be such a huge deal to have one member of the rotation underperforming so badly through 34 games of a 162-game slate, but the small-market
Marlins
are paying Vazquez $7 million and appear to be in the thick of a strong three-team race in the NL East with the mighty Phillies and Braves. They really need Vazquez to fix whatever it is that's ailing him or the prospects of hanging around through August in that tough division aren't great.
In related news, Vazquez was placed on the bereavement list Tuesday night (
MLBlogs
). He's returned to Puerto Rico to be with family due to a death in the family on his wife's side. He is expected to make his next scheduled start, which is Sunday.
For more baseball news, rumors and analysis, follow @cbssportsmlb on Twitter or subscribe to the RSS feed.