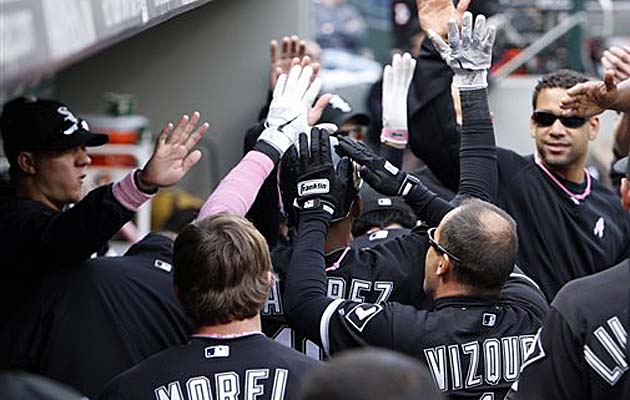 By Matt Snyder
The Chicago
White Sox
were a popular pick to the win the AL Central prior to the 2011 season. I can't speak for everyone, but I can tell you why I picked them. The starting rotation is strong and the offense looked to be powerful.
Instead, the offense was abominable through last Friday. The White Sox had dropped eight of nine games and sat in last place in a pretty bad division at 11-22. While the back-end of the bullpen has been a serious concern, the most head-scratching problem with the team was the lack of offense. From April 15 through May 6, the White Sox scored more than three runs four times -- two of those were four-run games. They scored either zero or one run seven times. This was a 20-game stretch.
If you look at the currrent seasonal totals for American League ballclubs, the White Sox rank 10th in runs, 10th in batting average, ninth in on-base percentage and 10th in OPS. The problems were evident all over the place.
Adam Dunn
had an awful transition to the AL, possibly affected by his appendectomy (though
Matt Holliday
seems to be just fine).
A.J. Pierzynski
can't hit anymore.
Juan Pierre
hasn't been getting hits like he usually does and has gotten caught stealing (eight) more times than he's stolen a base (six).
Alex Rios
got off to a pitiful start while
Gordon Beckham
and
Alexei Ramirez
have scuffled more times than not as well.
You can say what you want about that collection of players, but you cannot dispute there is lots of talent there. I've seen many fans complaining about having a bunch of strikeout machines, but only three AL teams have struck out less than the White Sox. There is lots of power, but there is also speed and it's not an overly old bunch. The oldest one is
Paul Konerko
and he's been raking.
Now, with a three-game winning streak, it appears the lineup is waking up from its collective funk. Konerko has been consistent and hitting well all season.
Carlos Quentin
has had some insane hot streaks. He's up and down, but still has a .944 OPS with eight home runs and 23 RBI. They just needed everyone else to wake up and it could very well be happening.
In the past three games, the White Sox have scored 19 runs. Two of those came in the pitcher's paradise known as Safeco Field, too.
Some of the individuals who had been struggling are waking up, which only alleviates the collective pressure on the entire lineup.
Beckham went 6-15 (.400) in the series with two doubles, a home run, three RBI and three runs. Ramirez went 3-8 with a double and a home run in the past two games. Dunn went 5-13 (.385) with three doubles and four runs in the last three. Rios has gone 11 for his past 28 with a 1.036 in the past seven games. Even
Brent Morel
went 5-8 over the weekend.
The White Sox are still just 14-22 and a whopping 9 1/2 games out on May 10. That's an uphill climb. But the bats are starting to wake up, the bullpen hasn't been near as bad in recent weeks and
Jake Peavy
is coming back to bolster the rotation. There are five games left on a west-coast trip against some pretty good pitching. If the White Sox win two of those games, the 5-4 trip would be considered a success and they'd be coming home to a seven-game homestand in one of the best hitter's parks in the majors.
If you still don't buy the
Indians
-- and note that the rest of the division is flawed -- don't count the White Sox out. Remember, baseball season is a marathon, not a sprint.
For more baseball news, rumors and analysis, follow @cbssportsmlb on Twitter or subscribe to the RSS feed.