By Evan Brunell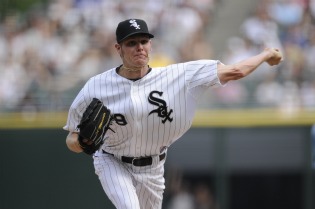 Chris Sale opened the season as Matt Thornton's setup man, and there were some who thought Sale could eventually walk away with the closer's job.
Instead, the lefty has been part of the problem with a 7.15 ERA entering Monday's games over 11 1/3 innings. The bright side? Sale has punched out 13 and that number is sure to rise once the weather warms up even more and Sale can unleash his upper 90's fastball that is currently sitting in the mid-90s.
"Yeah, velocity is ­probably the last thing I'm worried about," Sale told the Chicago Sun-Times. "Getting outs is at the top of my to-do list. It will get there. I'm not too worried about where I'm at with velocity. I feel good, my body feels good, my arm feels good."
Outs are indeed a problem for Sale, who has seen his walk rate creep up to four walks per nine innings. Not exactly a great ratio, but forgivable for someone with Sale's strikeout stuff. Less forgivable is his 15 hits allowed, but his .353 BABIP suggests that he's been rather unlucky and can count on that number to decrease. Still, when your boss is Ozzie Guillen, you don't want to wait for regression to the mean.
Pitching coach Don Cooper has identified some potential mechanical flaws that could be responsible for Sale's increased command issues, which may also be part of the culprit in giving up too many hits. After all, if you don't spot the pitch where you want it and walk too many batters, it stands to reason the pitches you toss in the strike zone may end up in hittable locations. Indeed, while batters are offering at his pitches inside the strike zone at a similar clip to last season, they're making contact a lot more often.
Fortunately, Sale has the right frame of mind as far as addressing his problems. Far too often, when confronted with adversity, young pitchers rush their delivery in an attempt to overthrow the ball past the batter.
"My main focus is not about lighting up the radar gun," he said. "Everybody in this league can hit 98. That's no secret. It's a ­matter of where the pitch is, not how hard it is."
For more baseball news, rumors and analysis, follow@cbssportsmlb on Twitter or subscribe to the RSS feed.