By Evan Brunell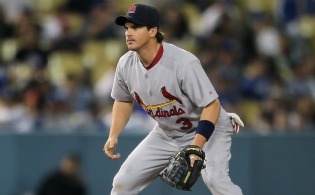 On Tuesday, the return of Ryan Theriot is sure to spark some unkind words from Cubs fans.
Theriot came up with the Cubs and played parts of six seasons with the club, including as the starting shortstop from 2007 to partway through 2010, when he was traded to the Dodgers and began the process of converting to shortstop. Theriot was a fan favorite while in Chicago as a gritty, David Eckstein-esque player who hit .287/.350/.362.
The Dodgers didn't have much use for Theriot after the season, so he was dealt to the Cardinals who immediately inserted Theriot as starting shortstop, hoping that his clubhouse presence would spark a fire along with Lance Berkman with a team that was fractured and not intense enough in 2010. While Theriot has an underwhelming .287/.341/.320 line and doesn't offer much with the glove, he has been instrumental in turning the clubhouse around and won many new fans in St. Louis for saying he was "on the right side of the [Cubs-Cardinals] rivalry" after being traded. Those comments rankled his former team, with catcher Koyie Hill saying his former teammate can expect to be knocked down with a pitch.
Now that doomsday has arrived, does Theriot expect to be knocked down?
"I wouldn't think that they would hit me for the simple fact that you've got Albert [Pujols] and Matt [Holliday] and Lance [Berkman] coming up right behind me," Theriot told ESPN 1000 on Monday. "Even with that being said, no , I wouldn't think [getting hit by a pitch] would happen."
"Obviously the comments that I made were kind of taken out of context," Theriot continued. "[People] know the way I feel about Chicago and the way that city has embraced me. What a wonderful time I had when I was there. I talked to Koyie afterwards, and it is what it is. Whatever. What are you going to do?"
Even though Theriot appears to have tried to make amends, he still can expect some boos when he takes the field simply by virtue of wearing a Cardinals uniform and uttering these comments, even if taken out of context. It will be a strange day for Theriot, who hasn't returned to Chicago since being traded.
"It's definitely going to be different, I would expect. I've never done this," Theriot said. "I went back to L.A., but I don't really count L.A. Going back to a city that I have been to and been a part of for so long it will definitely be emotional for me. I'm really looking forward to it. It's kind of one of those trips that ... a lot of road trips fall together, mesh together. This is one you look forward to.
"I can go to some of the restaurants I went to when I was in Chicago. It starts from the top from the front office guys to the people that do promotions at Wrigley, the ushers, everybody. You make friends with those people and you get to know them and they are part of your life for a long time so I am excited to see all those guys again."
For more baseball news, rumors and analysis, follow@cbssportsmlb on Twitter or subscribe to the RSS feed.