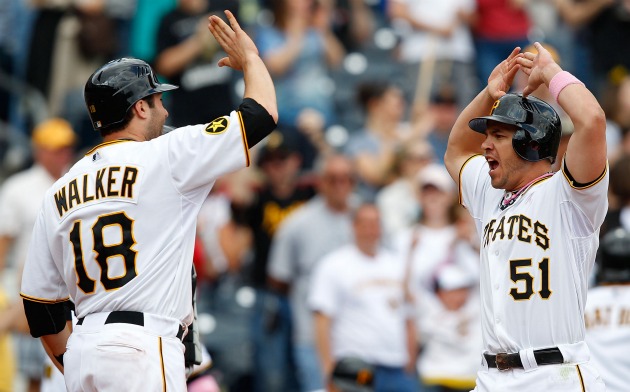 By Evan Brunell
The Pittsburgh Pirates finishing .500? There's a whole generation of baseball fans that don't understand that concept, but that's exactly where the Bucs find themselves at just over one month into the season.
Now 17-17, Pittsburgh will look to go one game over .500 as they face the Dodgers Monday night. If it can pull that off, it will be the first time since May 29, 2004 that the club was over .500 this late in a season. Unfortunately, 2004's squad finished with 89 losses and the ensuing years saw an even worse decline, so that statistic doesn't mean that the club has made any type of progress.
But when you look at 2004's club against 2011's, it's clear that progress has been made.
Back then, the Pirates weren't as young a club, although many were still under 30 years of age. Some ended up with good seasons, with a 26-year-old Jack Wilson slashing .308/.335/.459 with 41 doubles, which remains his best year to date. Craig Wilson at age 27 cranked 29 homers but never again approached these levels and was out of baseball after 2007. Most of the other hitters with one notable exception in Jason Bay have gone on to vanish or barely cling to relevancy (Jason Kendall and Ty Wigginton).
The pitching side of the ledger had a fantastic year by Oliver Perez and Kris Benson's solid 20-start stint prior to being traded to the Mets hide what was a poor staff that was shored up by a strong bullpen. All told, while the team was relatively young, it was only as good as it was thanks to the performances of five players, four of which never approached 2004 levels again.
It's a different story in 2011, with a much younger club. That's not reflected in the average age of the squads as 2011's 27.9 average age is higher than 2004's 27.45, but the Pirates boast a yonger core with the potential to be among the game's best. The bullpen has been effective to start the year and the rotation is deeper than 2004's counterparts. That may come as an oddity when Kevin Correia is the ace of the club, but it's no less true. Offensively, Pedro Alvarez, Andrew McCutchen, Jose Tabata and Neil Walker form a quartet that 2004's club can't hold a candle to.
For the Pirates to sustain their newfound dominance, however, they have to step up their prospect procurement. This is a team that is thin on pitching and saw that partly addressed in last season's draft with the selections of Jameson Taillon and Stetson Allie, but still has an overall farm that Baseball America ranked 19th last season, largely due to the graduations of the offensive core. Compare that to 2004's ranking of 11, topped by Zach Duke and a host of other pitchers that failed to ascend.
It's no wonder that the 2004 club dipped to 89 losses, and as promising as 2011's club is, Pittsburgh will have to look ahead toward next year as a more realistic chance of breaking the streak of futility. It is difficult to envision Correia continuing to pitch to a 2.91 ERA, and as interesting as Charlie Morton's progress is, a regression has to be expected until (and if) he fixes his control problems, which he took a step forward in doing so in his last start by allowing only one free pass. And while James McDonald can be counted on to improve, it'll be balanced out by Jeff Karstens's probable regression.
For Pittsburgh to have any hope at finishing at .500, it will come from an offense ranked 22nd in runs scored so far. The entire infield plus Tabata and McCutchen are off to quite a slow start. Their expected improvement could offset pitching regression, but the other issue at play is Pittsburgh's division counterparts. Now that Milwaukee has its top three starting pitchers healthy and contributing, so their 14-20 record will turn around in a hurry and that's bad news for the Pirates given the imbalanced schedule that pits Pittsburgh against its NL compatriots for the majority of the games. Thus, even if the offensive regrouping does offset the pitching, it's difficult to envision a .500 record being sustained, especially once injuries hit the pitching staff; the club has virtually no pitching to speak of in Triple-A which is a flaw that will get exposed at some point.
Still, the improvement in the Steel City has to lend a certain amount of optimism to its long-suffering fans, who would glady take any type of improvement even if it it's not an 81-81 record. While even 1997 and 1998's 83 loss-seasons look out of reach, the Pirates appear poised to post the franchise's best record since 2004, and could even go beyond. That will set up quite the storyline for next year, when the Pirates look to avoid 20 straight seasons of finishing under .500.
For more baseball news, rumors and analysis, follow@cbssportsmlb on Twitter or subscribe to the RSS feed.
PHOTO: Steve Pearce, No. 51 of the Pittsburgh Pirates, celebrates with teammate Neil Walker, No. 18, after Ryan Doumit, No. 41, hit a three-run home run against the Houston Astros during the game on May 8, 2011 at PNC Park in Pittsburgh, Pennsylvania.