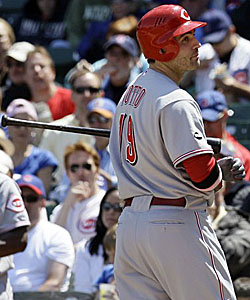 By Matt Snyder
You may not have noticed, what with all the hoopla
Andre Ethier
got for his 30-game hitting streak, that
Joey Votto
had reached base all 33 games in 2011 entering Sunday. But he had. And that streak for the
Reds
' first baseman was snapped with an 0-4, two strikeout game at Wrigley Field against the
Cubs
.
Why so much less attention? It's not like we have some slap hitter diving in front of pitches to scrap his way on base. Votto entered Sunday hitting .345 with a .476 on-base percentage, 27 runs, eight doubles, a triple, five home runs, 18 RBI and a 1.037 OPS. His league-leading 29 walks helped keep the streak alive, but his 40 hits helped as well.
It's true that it's harder to get a hit than to simply get on base, which is why OBP's are always higher than batting average. But it's also true that in many cases, a walk is just as good as a hit. In fact, I could argue a walk is better than a single at times. If there is no one on base, working a seven-pitch walk is much more detrimental to a pitcher than a seeing-eye groundball base hit on the first pitch.
I also believe that it's the traditionalist mindset. The number 56 -- Joe DiMaggio's record hitting streak -- is one of those sacred numbers in sports. Do you know the record for consecutive games on base? I'm guessing no. I was able to find that Ted Williams had an 84-game on-base streak and that's the record, but it took some digging to find the information. That's not the case if you want to find anything on DiMaggio's 56. It's one of the easiest historical feats to find on the Internet.
Maybe it's that it feels more manly to get a hit than to take a walk. You know, the "swing the bat, you [insert chosen expletive]" mindset. We've all heard that at some time or another. Maybe even said it.
Maybe it's that Votto wasn't as close to the record as Ethier was -- though I'd argue hitting streaks start to gain steam in the press once they hit double digits.
Whatever the reason, hitting streaks seem to be far more important to the masses than on-base streaks. I'd just like to give credit to someone for avoiding outs rather than completely disregarding walks like it doesn't help the team -- as I've said before in arguing for on-base percentage to overtake batting average as the most mainstream rate stat.
Regardless of the sentiment of either side of the argument, Joey Votto is having a huge season and just had a really impressive streak snapped. He deserves credit and fanfare, even if an on-base streak is not as universally embraced as a hitting streak.
For more baseball news, rumors and analysis, follow @cbssportsmlb on Twitter or subscribe to the RSS feed.