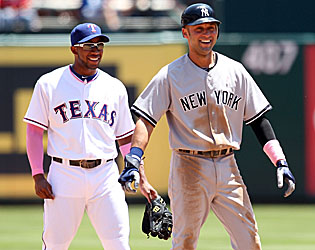 By Matt Snyder
One of the most exhaustively covered storylines of the 2011 season to this point is how
Derek Jeter
is not a good player anymore. He's too old, his bat is too slow, he can't play defense, he's not even fast anymore, etc. We get it.
Sunday, all the naysayers had to sit back and keep quiet -- if only for a day.
Early in the game, Jeter collected his first stolen base of the season. In the fifth inning, he connected on a home run -- his first in 259 at-bats. Since that seemed like far too long a drought, he went ahead and hit another bomb his next plate appearance. He finished the day 4-6 with two runs and three RBI. Throw in the steal and pair of homers and there wasn't much more he could have done to help the
Yankees
win -- which they did, 12-5.
Like I said, it was vintage Jeter.
He's actually been providing decent production the past few weeks, not that any of his detractors would admit it. Entering Sunday -- which we'll exclude because the numbers would be greatly skewed by the huge game -- Jeter was hitting .302 with a .356 on-base percentage in his past 13 games. Those are hardly the numbers of a worthless player.
Look, I understand why there's been so much Internet ink used on Jeter this season. He's polarizing. The stats-only crew thinks he's abominably overrated while the gut-feeling crew think he does things you can't measure in stats -- so now that he's starting his decline, the stats-only crew feels the need to constantly tell you why he's not very good. It's like they're finally getting through to the masses, so it's an overreaction.
Additionally, Jeter plays for the most polarizing team. He's still paid like a superstar, and he's getting closer to the hallowed 3,000-hit mark. So it makes sense that his demise has been greatly covered.
It's also very true that one game doesn't change the fact that he's definitely on the downturn of his career. I won't dispute he is entering his twilight years, because he is. He turns 37 this year, so it's only natural he's in decline.
It's just that he doesn't suck, either. A bad few weeks to start the season doesn't prove he's cooked any more than a four-hit, two home run game proves he's back to his old self. As with most arguments in life, the answer lies somewhere in the middle.
On Sunday, though, Jeter partied like it was 1999.
For more baseball news, rumors and analysis, follow @cbssportsmlb on Twitter or subscribe to the RSS feed.