By Evan Brunell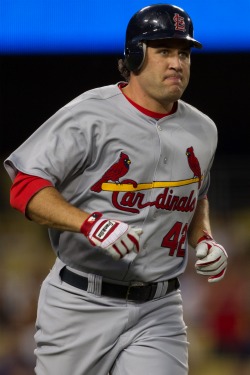 As Lance Berkman continues to rip apart baseball pitchers, many are searching for answers as to what made the Cardinals take the risk and sign Berkman.
It's paid off handsomely so far, as the former first baseman has handled right field to the point where he is not an outright liability and litters the offensive leaderboards with his name by hitting .388/.467/.767 with 10 home runs and 32 RBI, while striking out less than he walks (14/17 K/BB ratio).
"Obviously when you look at his career, his overall production, we thought he could be a good player for us," GM John Mozeliak told the St. Louis Post-Dispatch, looking back at the Dec. 5 signing. "But he's played at an exceptional level to this point. We embraced him. And he's embraced this opportunity."
Obviously, Mozeliak couldn't have anticipated Berkman's performance to date, but clearly he felt the 35-year-old had something left in the tank. How did he know that after a season in which Berkman looked like he was quickly being ushered into an early retirement?
"We did a lot of due diligence," Mozeliak said. "We truly believed he could have a bounce-back year. When we looked at it, we knew he was working extremely hard on his conditioning, was getting the knee healthy, was getting himself in tremendous shape, and that he'd be a lot stronger. That was a big thing. We knew that he still had an eye for hitting, and he would work the count and take walks. The question was, how would he be physically. And once we knew how much he was putting into his training, it gave us confidence."
One other thing Berkman did was change the culture of the clubhouse. Berkman's known to have a personality that is conducive to a positive clubhouse atmosphere, and the Cardinals made clubhouse impact a priority after struggling to get everyone on the same page and happy last season. That was a major reason why the Cardinals made the (at the time) head-scratching move of bringing Berkman in to play right field along with signing Ryan Theriot to play short. Theriot hasn't exactly worked out so far, but he's had the impact on the clubhouse the club was hoping for along with Berkman.
"The team has changed its look," Mozeliak said. "Last season if we were down 4-2 in the seventh inning, the game was over. This year, even if we're down, you don't want to leave. We'll battle. We thought Berkman and Theriot could help us change the culture."
For more baseball news, rumors and analysis, follow @cbssportsmlb on Twitter or subscribe to the RSS feed.