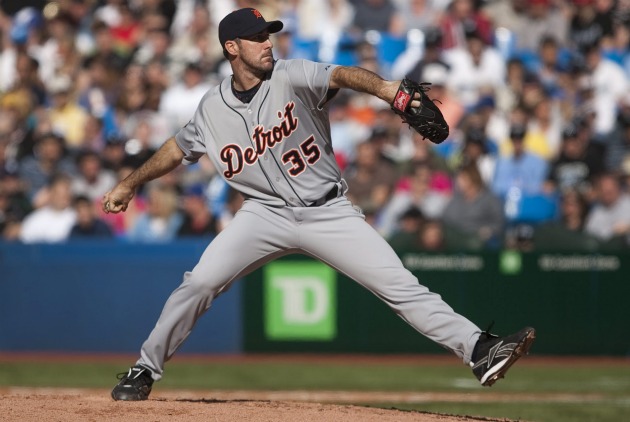 By Evan Brunell
When Justin Verlander tossed a no-hitter Saturday, he immediately vaulted himself into the best pitching performance of the young season, ahead of division rival Francisco Liriano's own no-hitter a mere four days ago.
The 28-year-old was dazzling against Toronto, taking a perfect game into the eighth inning before J.P. Arencibia battled him for a full-count walk on 13 pitches, fouling eight of them off. Verlander would have to settle for a no-hitter, the second of his career.
Verlander's performance included just one walk against four strikeouts on 108 pitches, and right there is why his no-hitter is more valuable than Liriano's. Yes, the very definition of a no-hitter means that walks are irrelevant, but no one likes to see a no-hitter with its imperfections laid bare for all to see. Liriano walked six batters and struck out two, laboring through 123 pitches.
It's awfully hard to look past these six walks, just like it was difficult to truly enjoy Edwin Jackson's own no-hitter last season. Of all the no-hitters tossed, Jackson's received the least fanfare, in no small part due to his eight walks allowed to the Rays.
Verlander was far more spot on with his pitches, notching 16 first-pitch strikes to 27 batters while Liriano compounded his control issues by starting off only 10 of 30 batters with a first-pitch strike. But while Verlander clearly wins the battle of better no-hitter when you look at walks, Liriano may boast the better stuff.
Batters ended up with a called or swinging strike 35 times against Liriano, notching just nine foul balls and 22 batted balls. Verlander, meanwhile, had 28 foul balls and 26 strikes of either the called or swinging variety. An additional 20 balls had contact made in play.
Those numbers indicate that Lirano's pitches were more effective in generating swings and misses while Verlander relied more on contact and got many of his advantageous strike outs thanks to foul balls. In Verlander's favor, however, is that his featured pitch was that of a fastball with an average speed of 97.5 mph. Even with one of the best fastballs in the game, batters are more geared up to make contact with the pitch. Contrast that to Liriano, who still featured his fastball but mixed in his slider extensively, which was more effective in being called a strike or swung and missed and is responsible for Liriano's ability to skirt his control issues to notch the no-no.
In the end, though, the walks remain the main issue. Liriano surrendered six, Verlander just one. That alone gives Verlander the nod for the more effective and impressive no-hitter.
At the end of the day, regardless of who pitched the better no-hitter, Justin Verlander and Francisco Liriano are both now the two pitchers with no-hitters in the 2011 season, and nothing can ever take that away.
For more baseball news, rumors and analysis, follow @cbssportsmlb on Twitter or subscribe to the RSS feed.