By Evan Brunell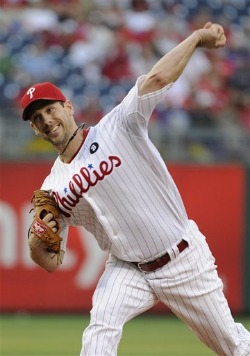 Cliff Lee dazzled the Braves on Friday night with 16 strikeouts, although he walked away with a loss as Derek Lowe took a no-hitter into the seventh; Atlanta eventually edged the Phillies 5-0.
On 117 pitches, Lee was at his finest as he coughed up just one walk although nine hits allowed did him in as he gave up a single and two doubles in the third inning to account for three runs before the bullpen coughed up two more.
But let's pay attention to these 16 K's, which account for 26 percent of his 60 strikeouts on the season and pushed him into baseball's leader in strikeouts. He edged the Cubs' Matt Garza, who punched out seven earlier Friday, and also passed teammate Roy Halladay, who has 57. The 16 whiffs were a career-high for Lee, whose previous high was 13, set July 7th of last season for the Rangers, shutting down Oakland.
He also has two 12-strikeout games to his name, both coming this season on April 14 and 25th. One of his five 11-strikeout performances come from 2011 as well -- so four of Lee's seven starts have seen him register personal highs. So why is this happening all of a sudden?
Well, to start, Lee's domination of the NL is nothing new. His highest K/9 rate prior to this season season came with Philadelphia in 2009 when he registered a 8.36 mark. But that doesn't even hold a candle to his current K/9 rate, which is 11.65 percent after Friday's game, putting him on a staggering pace for 314 punchouts over the season.
The last 300-strikeout season came in 2002 when both Randy Johnson and Curt Schilling struck out 334 and 316 batters, respectively. Johnson reached at least 300 whiffs five times in his career, Schilling three times and Pedro Martinez twice. If Lee can reach the 300 mark, he will become the fourth pitcher since Nolan Ryan's exploits in 1989 to see the number.
Oh, and he's the first Phillies pitcher to strike out 16 in a game since Schilling in 1997.
Of course, it's no guarantee that Lee will reach 300. But it's clear that so far this season, he's striking out batters like never before.
For more baseball news, rumors and analysis, follow @cbssportsmlb on Twitter or subscribe to the RSS feed.