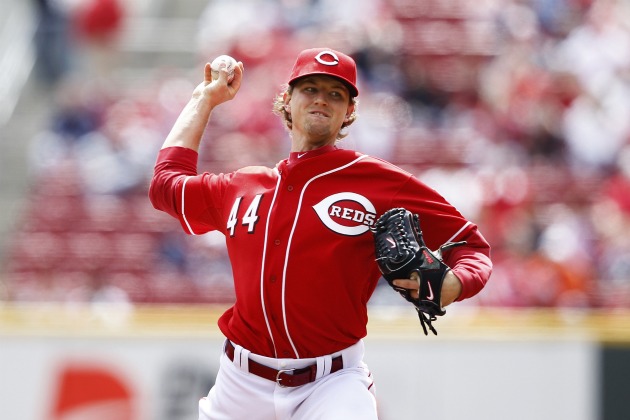 By Evan Brunell
Mike Leake was bumped from the rotation to the bullpen several days ago to make way for Johnny Cueto's return to the rotation Sunday. Cueto is finally over his injury troubles and coupled with Homer Bailey's own return to the staff has created some recent roster shuffling as the Reds try to get the rotation into gear. Until then, Baker's happy to have both Leake and Sam LeCure as long relievers.
"We were going to start the season with [Leake] as the long man and my sixth starter -- don't send him out to the Minor Leagues yet," Baker told MLB.com. "That's why we sent [Matt] Maloney down to get stretched out. The way my starters have been going, I've got him and [Sam] LeCure. I've got two long guys, which is what we need right now. Once they [in the rotation] start humming again, we'll deal with that when they get there. We've got to start humming first."
Baker feels as if Leake could be quite a find in the bullpen despite giving up eight earned runs in 2 2/3 innings last season in his stints as a reliever near the end of the year when Cincinnati was trying to manage the righty's innings. However, Baker brings up some good points as to why Leake may be ready to succeed as a long man.
"I think he'll be a very good long man. He stays in shape. He comes in, he throws strikes. He's keeping the ball down to get double plays," Baker said. "I don't have to hit for him if he comes up like you do a lot of relievers, because he can hit. Therefore, he can extend that part of my bullpen out, unlike a lot of guys.
"In the second half [of last year] and this year, he's had a little trouble with the lineup about the third time around. To me, that equals, in theory, a perfect long man."
Baker's right. A perfect long man would be someone who can chew up innings, and what better than someone who keeps the game moving by throwing strikes. The ability to have Leake stay in the lineup when he comes up to bat is a big one and will do nothing but improve his chances of staying on the mound.
But is Baker right about Leake struggling with the lineup the third time around?
Absolutely.
The first time around the order, Leake performs impressively, giving up an opponent batting line of .255/.310/.385. He keeps up the good times the second time through, actually limiting batters to less extra-base hits but also coughing up more walks for a .253/.333/.382 line. But then the wheels fall off, with a .324/.365/.500 mark his third time through. You don't want to see the numbers for the fourth-plus time through.
Cincinnati has eyes on winning the division, so needs to maximize the contributions of every player on the staff. With that in mind, Leake does appear to be a great option as a long reliever and sixth starter who can step into the rotation in a pinch, allowing the Reds to avoid making a quick roster transaction. But it's not the best use of his abilities as Leake must figure out a way to limit batters turning into Robinson Cano. He can't do that without practice.
That's why, while Leake may be a better pitcher than Sam LeCure, he could find himself optioned to Triple-A once Baker and the Reds feel comfortable with the rotation. That will allow Leake to get stretched back out as insurance and also enable him to work on his issues the third time through the order.
For more baseball news, rumors and analysis, follow @cbssportsmlb on Twitter or subscribe to the RSS feed.