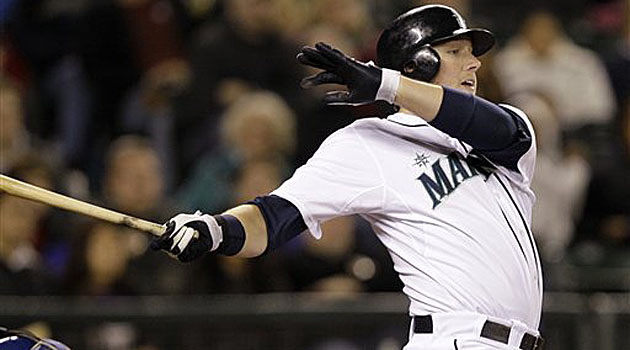 By Matt Snyder
When the
Mariners
traded
Cliff Lee
last trade deadline, young first baseman
Justin Smoak
was one of the players they received in return from division-mate Texas. He had a modest-at-best rookie season in 2010, showing some power and handling the glove well while sporting a less-than-impressive .218/.307/.371 line.
This season is a different story for the 24 year old, as he's showing signs of a breakout campaign.
Smoak is currently hitting .315 with a .983 OPS, five home runs, 20 RBI and eight doubles. Even better, he's taken 15 walks in 105 plate appearances, pairing patience with his power. And he's in the middle of a run where he's carving up opposing pitchers with relative ease. Since his batting average dipped to .226 on April 10, Smoak has been scorching. In the 17 games since then, Smoak is hitting .362 with a 1.146 OPS, five home runs and 18 RBI. He's collected 21 hits in those 17 games, too.
His former team just saw up close what they coughed up for a few months of Cliff Lee -- and a trip to the World Series, so it's doubtful they're overly broken up about the result of the deal. Smoak had seven hits in 12 at-bats in helping the Mariners take two of three from the
Rangers
. Of those seven hits, two were doubles and one was a bomb that propelled his team to the series-clinching win Thursday night. He drove home three runs in the three games.
Now the question becomes, just how much of this is sustainable? Is it merely a good run for a run-of-the-mill player, or is he an emerging star?
My opinion is that he slightly falls on the side of the latter. Smoak is not a
Miguel Cabrera
/Albert Pujols/Mark Teixeira level slugger. He only hit 24 home runs in 170 career minor-league games and now he's relegated to playing half his games in the suffocating confines of Safeco Field. One thing he did do in the minors was take a lot of walks. He's showing his patience this season in the bigs as he gets more comfortable. The average should come down as his .359 BABIP is far too high for a guy who isn't exactly Ichiro on the basepaths, though he should start hitting more line drives to help soften the blow.
For this season, we should probably expect somewhere around 20 home runs, 30 doubles, 75 RBI and a solid on-base percentage with good glove work. That's an encouraging start for an offense badly in need of some sort of foundation for the future.
Finally, it is entirely possible for players to eventually develop power at the major-league level.
Joey Votto
never hit more than 22 home runs in a minor-league season (did so in 133 games his last full Triple-A season), but pounded 37 last year. Sure, their ballparks are polar opposites, but that should give some hope for Smoak to increase his home run power in the coming years. The Mariners sure wouldn't argue.
For more baseball news, rumors and analysis, follow @cbssportsmlb on Twitter or subscribe to the RSS feed.