By C. Trent Rosecrans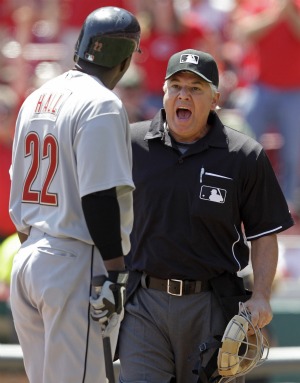 Astros
infielder
Bill Hall
can be expecting a fine here pretty soon.
Hall was ejected by home plate umpire Tom Hallion in the seventh inning for arguing balls and strikes.
Here's a sampling of what he told reporters, from Zachary Levine of the Houston Chronicle:
"It's getting ridiculous. Umpires are obviously not getting punished enough because they feel like they can go out there and 30,000 people are out there to see them when they're not. They're out there to watch us. As long as we're not disrespecting you and getting in your face and showing you up in ways where you need to throw people out of the game, then they just need to calm down. Because right now, it's a joke the stuff they can say on the field and stuff they do on the field and when we get mad, we're the one that gets tossed and gets fined and suspended for games. And most of the time they don't get anything."
Hall also said Hallon "yelled" at him (and based on the photo to the right, that's pretty easy to believe), telling Hall to "get in the [expletive] box" after he stepped out of the box. Hall said he cursed himself after swinging at the third strike and then he was tossed.
For more baseball news, rumors and analysis, follow @cbssportsmlb on Twitter or subscribe to the RSS feed.