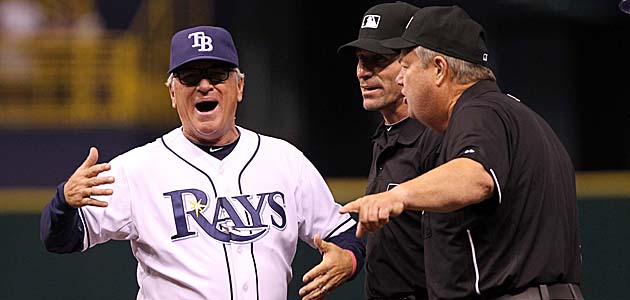 By Matt Snyder
Joe West, Angel Hernandez, Chad Fairchild and Paul Schrieber are the worst umpiring crew in the majors, and it's not even close. If it was simply a competence issue, that might be a bit less of a problem. You can fix incompetence through more training. No, the problem is way worse. It's a crew that has a mental issue in terms of being accountable and lacking the most needed skill in officiating a sport.
There's a chip on the shoulder and penchant for intentionally becoming the story. That's a big problem.
Full disclosure here: I probably respect professional sports officials more than the average fan, because I'm a high school football official. Please don't misconstrue this into my saying I know what it's like to umpire major-league baseball. Not even close. I'm just saying I have an appreciation for how much harder it is to call a sporting event than the average fan realizes. Of course, I also realize that there are certain things that apply to all levels. Such as:
- A sporting official is doing his job if you don't even notice him.
- If a player, coach or manager gets thrown out of the game, one of two people are completely out of line: 1. the person who was ejected; 2. the person who did the ejecting.
- An official should never make himself part of the story or the center of attention.
These are basic and apply to all sports. If a player, coach or manager makes the umpire part of the story, that's not the umpire's fault. But West and his crew constantly violate all three of the above principles. And what's with all the yelling back? Shouldn't they just let players and managers vent? I sometimes think of it as the equivalent of an adult and child arguing. At some point, you have to be the adult. The umpires should act the same way. If you need to throw someone out, do it. Then just let him kick and scream like a child. There's no reason to scream back.
Wednesday night in Tampa Bay was just another example of the problem with this umpiring crew. Three people were ejected.
B.J. Upton
deserved it -- even though he was correct that it was an awful call, by the way. Joe Maddon and John Farrell were both ejected for arguing pretty mildly and neither deserved to be thrown out. Farrell's ejected was absurd because it looked like a completely ordinary conversation. No one else even knew he was arguing until the umpire made an issue out of it. You have to be pretty insecure to toss a guy who isn't doing anything to cause a scene. Maddon's ejection was absurd because he was simply asking a question and West later admitted he blew the call. Oh, wait, he said
"it appears we may have erred."
Quite an admission, huh?
Look, I understand the umpires take abuse and don't get near enough respect for the job they do. That's precisely why this crew is such a problem. These guys make it harder on the rest of the umpires in the bigs. You ever hear one bad apple spoils the whole bunch? If fans, media, players and coaches all have a sour taste about calls they see on a day-to-day basis from a group of umpires, suddenly the entire group of major-league umpires are stained. In order to stop people from having a sour taste in their mouths about umpiring, these guys need to quit putting themselves in the spotlight.
I don't know if they like or even crave the negative attention -- as some would say that's better than no attention at all -- but umpiring isn't supposed to be something that makes you famous. If someone is in it for anything but the job itself, they are in the wrong profession.
Enough of the constant ejections, ripping off the mask to scream at a dugout, tossing pitchers without warning or waiting for the TV cameras to come back on before running a guy. Just do your job and stay anonymous, that's all we're asking. No one is paying to watch an umpire sideshow. I'm guessing that's how Major League Baseball feels as well -- it just won't publicly say it.
For more baseball news, rumors and analysis, follow @cbssportsmlb on Twitter or subscribe to the RSS feed.