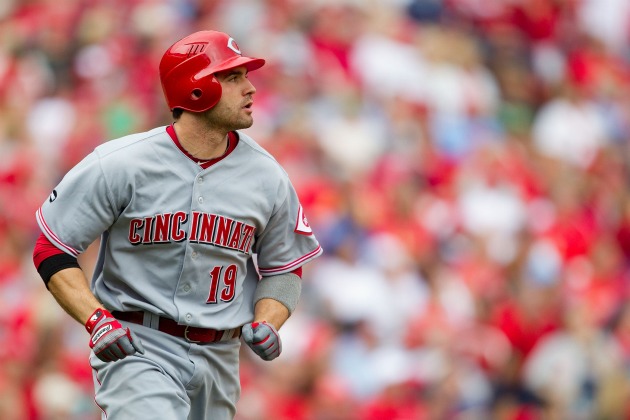 By C. Trent Rosecrans
One streak ended on Wednesday, and it wasn't Andre Ethier's hitting streak.
While the Dodger outfielder has gotten the headlines with his 29-game hitting streak -- interrupted with a sore left elbow on Wednesday -- two other players had perhaps even more impressive streaks going. Entering Wednesday's games, both Milwaukee's Ryan Braun and Cincinnati's Joey Votto were the only players in Major League Baseball that had reached base in every one of their team's games this season.
Votto extended his streak to 30 with a single in the ninth inning, part of a Reds ninth-inning rally, while Braun's streak ended at 28 in the first game of a doubleheader against Atlanta.
Braun went 0 for 4 with no walks against the Braves, lowering his slash line to /. Braun entered the game 6 for 15 with four homers in his career against Atlanta starter Tommy Hanson, but flew out twice and grounded out twice against the Braves starter and then flew out in the eighth against Scott Linebrink, to end his streak.
Braun will have a chance to start a new streak later today in the second game of the doubleheader.
While Ethier has garnered the headlines, both Votto and Braun have been better than Ethier. Votto is hitting .358/.485/.594 with five home runs and a 2.3 WAR (before Wednesday's game), according to Baseball-Reference.com. Braun is hitting .339/.430/.661 with 10 homers and a 1.5 WAR and Ethier is hitting .370/.436/.529 with three home runs and a 1.2 WAR.
For more baseball news, rumors and analysis, follow @cbssportsmlb on Twitter or subscribe to the RSS feed.