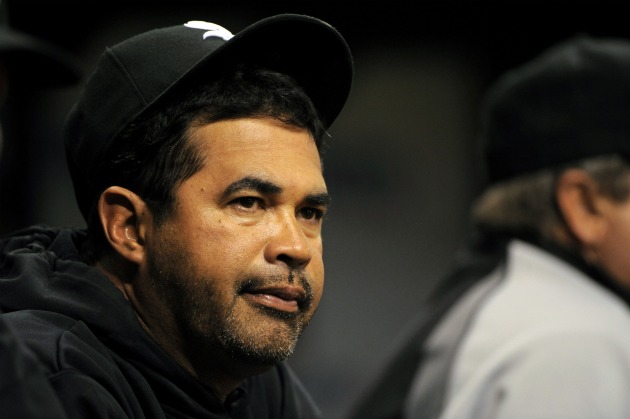 By C. Trent Rosecrans
Oh you Ozzie Guillen...
There are some days I'd love to cover the Chicago White Sox and some days I know I'd hate it. The thing is when you cover someone like Guillen, you can never take time off because you don't know what he may say -- and you'll be expected to have it. I've covered those types before, and it's great most days because they can make your job easy, but on certain days they make your job hard.
Today? Well, if you're good at transcribing, Ozzie made the job pretty easy.
Doug Padilla of ESPNChicago.com did a nice job of giving the highlights from Guillen 16-minute pregame meeting with the media (and keep in mind this was before losing 3-2 to the Twins on Wednesday to fall to 11-21 and have lost 18 of their last 23).
• On the team heading west: "Well, I was looking for the trip for the first time in my career. At least it's going to be like 2 o'clock in the morning here so if we play bad, people don't have to watch us."
• On coaches and managers getting the blame for poor play: "It's how it has been for 100 years. Players play bad, coaches pay. Players play good, they get their raise in salary. Like I said, coaches in the big leagues they win championships, they get maybe $10,000 raise. Players win championships and they get maybe $16 or $20 million raise."
• On the attention on the White Sox's troubles: "Every time people say I don't know what's wrong with the White Sox, I say the same thing: 'Me neither.' I wish I could figure it out. We've tried to figure out, yes. Maybe we try too much. Maybe we should let them go out and play the game. Take batting practice, we don't hit, we hit early, we don't hit early. We do everything everyone else does. We're not clicking."
• On the team psychiatrist: "Nothing against the guy, I respect him because this guy went to school. He helps us. But I think right now the players like everything, it's an excuse. Hey, take it like me. I say we suck. They say I should get fired, I don't give a [expletive]. Why? Because that's the way it is."
• If Jerry Reinsdorf has talked to him about his job status: "At this point, I don't trust anyone. You think Jerry come to me and say, 'We might fire you?' What do you think I'm going to say, no? Hey man, you got a lot of reasons to do it. How many games have we lost?"
Go read the rest of the link, not only because Doug did all the transcribing (and trust me, with something like this and with Guillen, that's no small feat), but also because there are some other good Guillen rants in there -- I particularly like the one about hitting coach Greg Walker needing a psychiatrist.
For more baseball news, rumors and analysis, follow @cbssportsmlb on Twitter or subscribe to the RSS feed.