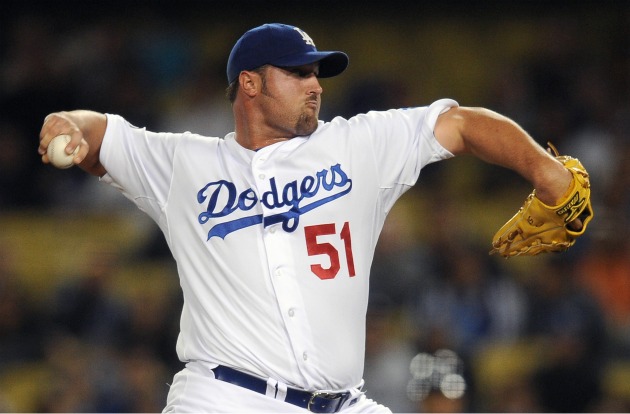 By Evan Brunell
Jonathan Broxton's struggles finally have an answer.
Broxton reported that his right elbow has been hurting for some time, which means the Dodgers now know why Broxton was throwing 90 mph instead of his usual 96 Tuesday night when he offered back-to-back four-pitch walks while registering just one out. Blake Hawksworth would come on to cough up the two inherited runs plus one of his own in the top ninth as the Cubs walked away with a 4-1 victory. Now, Broxton has been shut down pending the outcome of a MRI.
"Brox came in to complain about stuff, finally," Dodgers manager Don Mattingly said to MLB.com. It's honorable he's willing to pitch like this, but in the end, it doesn't do him any good and it's not fair to him and really everybody else, either. If you can't pitch the way you're capable of, it's too tough to pitch like that here."
Here's where things start to break down. Broxton had an unsightly 7.58 ERA from June 28 through the rest of 2010, but the Dodgers don't seem to have bothered to investigate why Broxton stunk up the joint so much, nor did they pursue the issue in the offseason. Instead, Broxton was left to his own devices to pitch through what he earlier termed normal discomfort felt over the course of a season. In L.A.'s defense, it can't be responsible for tracking every possible injury with each player. But this was consistent failure spanning two seasons for someone in which the Dodgers have a great deal of money invested to perform a high-leverage role. The Dodgers simply have to do a better job investigating issues where there's constant red flags -- and need to do a better job communicating to players to speak up if something hurts.
Meanwhile, the Dodgers will now go to a closer-by-committee, but there's no clear leader there. Hong-Chih Kuo was rushed back from injury in an attempt to fix the bullpen and is still getting his sea legs under him while Vincente Padilla cannot be used on back-to-back days as he recovers from arm surgery. (In games where Padilla has at least one day of rest, bet on him getting the save call.) The team can't turn to Kenley Jansen either, as he was optioned to Triple-A to make room for Kuo. Jansen could fill the closer's role well as he's punched out 22 batters in 13 1/3 innings that don't include his two worst outings of the season when he gave up nine of 11 overall runs on the season to hand him a 7.43 ERA. Jansen will likely get the call if and when Broxton is placed on the DL.
"I'm going to deal with what we have," Mattingly added. "We have [Matt] Guerrier, [Blake] Hawksworth, [Mike] MacDougal."
But first, Mattingly had more pressing matters to attend to: finding a MRI tube large enough to fit the 300-pound Broxton.
"I'm serious," Mattingly said.
For more baseball news, rumors and analysis, follow @cbssportsmlb on Twitter or subscribe to the RSS feed.