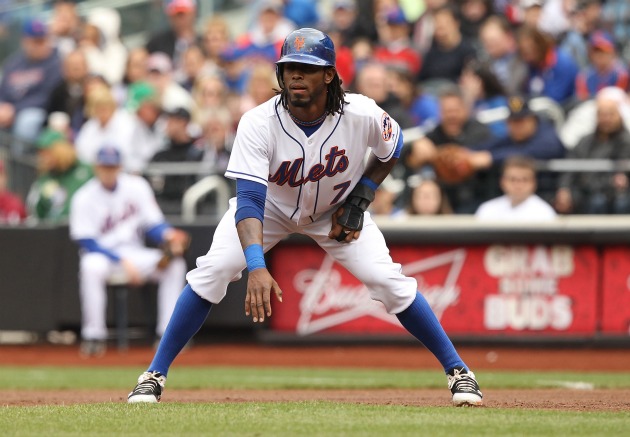 By Evan Brunell
The Giants' shortstop crisis has taken another turn toward utter disaster.
With the injuries to Mark DeRosa and Pablo Sandoval, S.F. has thankfully moved a slumping Miguel Tejada to third base, which improves the defense at shortstop even if his bat remains a complete zero. In lieu of Tejada, Mike Fontenot has stepped into the breach, but Fontenot remains a bench infielder with 20 career games experience at short -- seven this year.
Even when DeRosa and Sandoval return, allowing Tejada to slide back to short, the Giants need to find a better replacement, which will have to come via trade. But who?
Jose Reyes: The Mets' Reyes has been a popular link given the shortstop's perceived availability. An impending free agent, Reyes is showing how he can impact a game when healthy, but can the Giants afford both what it would cost in a deal for Reyes, plus what it will cost to retain him? CSNBayArea.com reports that while Reyes' name has been kicked around internally, that's as far as it's gotten so far. Helping matters is that the Mets wouldn't ask for any of the Giants' current starting pitchers, which has constantly eroded trade talks elsewhere. New York would focus on San Francisco's better prospects, like pitcher Zack Wheeler, outfielder Gary Brown or shortstop Ehire Adrianza.
Problem: The Giants already have a franchise-record payroll in the $120 million range, and Reyes' pro-rated $11 million salary would have to be absorbed with no guarantee of retention after the year. And retention could be a problem, as reports surface that Reyes will ask for a deal similar to Carl Crawford's seven-year, $142 million pact. Without Barry Zito and Aaron Rowand on the team, maybe S.F. could foot the bill, but a deal of that magnitude is likely not feasible. Compounding matters is that GM Brian Sabean will not trade top prospects for a "loaner," as CBSSports.com's Danny Knobler reports. Makes sense, and is the right idea.
ESPN's Buster Olney counters this, saying Reyes could be convinced to stay with a solid multi-year offer. If Reyes agrees to a deal that pays him $15 million, the Giants could find the funds for 2012 by the expiring deals of Tejada, De Rosa and Cody Ross. The team could then start Brandon Belt in right or left-field, with Pat Burrell returning for another year in the outfield or a similar low-cost solution found. Both Aaron Rowand and Aubrey Huff's deals expire after 2012, which would then really free up cash for San Fran, so it's still entirely possible the Giants go after Reyes. Still, it's a big enough stretch financially and what type of talent would have to be surrendered that one has to question if it's the right call.
Marco Scutaro: That could cause the Giants to explore alternatives, and Scutaro is one known to have come up in Giants circles. Scoot is making just $5 million on the year and the Giants would hold a $6 million club option if it wished to keep the infielder around another year. With Jed Lowrie's emergence in Boston, Scutaro is certainly available despite his ability to function as utility infielder. The Red Sox have depth down in Triple-A for that role, so if they can find a fit, would not hesitate to move their 2010 starting shortstop.
The Red Sox wouldn't require a top prospect in return for Scutaro, so a fit could be easier reached. The Red Sox could pursue bullpen options or settle for acquiring a blue-chip prospect. This is the most likely outcome: Scutaro fits the Giants' budget, holds potential 2012 value and has a motivated seller.
Maicer Izturis / Erick Aybar / Alberto Callaspo: The Angels love their infield depth, and it's been a major help so far. Still, if and when Kendrys Morales returns to first base, someone has to hit the bench. That won't be Howie Kendrick, who is currently batting No. 3 in the order and in the process of breaking out. That leaves one of the three mentioned as bench candidates. At that point, the Giants would be interested in one of the three. Aybar is the one whose job appears most secure, although he's the worst hitter to date. Callaspo is in the midst of a hot streak but is falling back to earth and has only 32 games played at short in his career. That leaves Izturis, who is in the middle of his own hot streak and the one who has consistently been the bench player of the group, although it could be Callaspo this season.
But a fit is less clear. The club can't justify asking for one of San Francisco's best starting pitchers and there's no obvious fit on offense. It's tough to imagine the Angels agreeing to trade for a prospect to sacrifice that quality infield depth.
Jack Wilson / Brendan Ryan: When the Mariners finally promote Dustin Ackley to man second, it will relegate a good fielding, no-hit shortstop to the bench. Take your pick in Jack Wilson or Brendan Ryan. Either can easily go, and Seattle wouldn't put up too much of a fuss in the return price. While Marco Scutaro would represent the best investment both from a financial and production perspective, acquiring one of Wilson or Ryan remains the most likely outcome simply because the price would be lower for one of the two. Plus we need the humor of the sad-sack Pirates' double-play combo in Wilson and Sanchez being reunited on the World Series-defending club.
There are other options too, but they're hardly anything to get excited about. Ronny Cedeno, Cesar Izturis, Angel Sanchez, or even a return engagement by Edgar Renteria would fill a gap, but nothing more.
For more baseball news, rumors and analysis, follow @cbssportsmlb on Twitter or subscribe to the RSS feed.