By Evan Brunell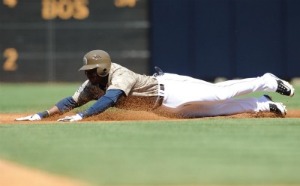 On Monday, Orlando Hudson stole his 10th base, which matched his career high set last season and in 2007.
Safe to say that Hudson will be setting a new career high for stolen bases for the Padres.
What gives?
Quite simply, Hudson is on his first team that has actively encouraged him to take advantage of his speed on the basepaths. Often the No. 2 hitter, Hudson's running skills were marginalized in front of the power hitters as managers did not want him to run and risk an out.
"When you're hitting in front of [Carlos] Delgado and [Vernon] Wells, you're in scoring position when you get to first base," Hudson told the North County Times. "[Here] we get on and we just have to do what we can to get into scoring position. I like it. I like it a lot. I'm doing whatever I can to get that extra base."
There's no such qualms in San Diego, where runs have to be manufactured one base at a time and are loving Hudson's prowess as he's mastered the technical art of stealing bases which gives him an extra edge over players faster than him.
"He's probably been pretty aggressive his whole career and he hasn't lost that feel," bench coach Rick Renteria said. "We're not going to come down on you if you try to be aggressive and make a mistake. The reality is we're trying to gain some benefit from that risk that we're taking. But the risks we take are calculated. They're not just reckless. So if he has a feel for what's going on and knows can get the base, he's going to take it. He's been very aggressive at it and very good at it."
Hudson's lucky that he's added an extra dimension to his game because he isn't doing much outside of swiping bags. His OBP is a sterling .354 once you compare it to his .237 batting average and .290 slugging percentage, but he can't stay punchless for this long and continue to get on base at a good clip, at which point his stolen base frequency will taper off.
For more baseball news, rumors and analysis, follow @cbssportsmlb on Twitter or subscribe to the RSS feed.