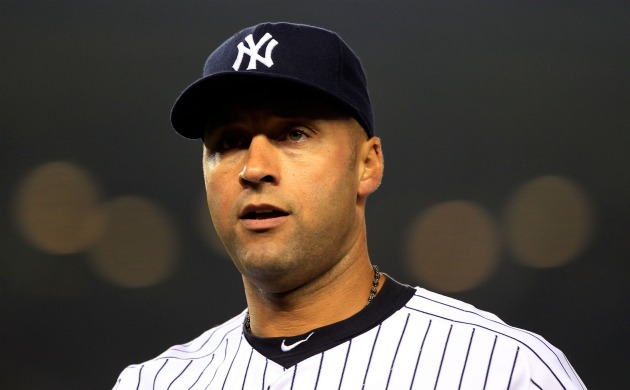 By Evan Brunell
Derek Jeter's start to the season is painful, there's no question about it.
The Yankee captain is a shell of his former self, hitting just .250/.313/.270 with no pop in his bat. He's hitting over 72 percent of his batted balls for groundballs, which is no way to perform unless you're Ichiro Suzuki.
As the days wind on, fans are becoming more and more concerned with Jeter's play, and the "lunatic fringe," as the New York Daily News' Bob Raissman puts it, contending that it's time to trade Jeter. (And who in their right mind would want to acquire Jeter?). Even the media is getting in on the concerns -- well, unless you're Michael Kay or Susyn Waldman, but speaking of lunatic the fringe...
A former Yankee who knows a little bit about growing old in pinstripes tried to explain what's wrong with Jeter.
"It does become frustrating for a player when every day you hear about your age and that you're slowing down," O'Neill said Saturday. "You start getting it in the back of your mind and you're trying to prove people wrong instead of just going out and playing."
Media and fan pressure doesn't help, but is it truly completely responsible for Jeter's struggles. Not so much. What they can do is compound struggles and be used as a source of blame. For example, say Jeter continues struggling and is dropped to No. 8 in the lineup (why has this not happened yet?), he could easily choose to take out his frustrations on the media and refuse to speak to reporters for debating Jeter's offense. It doesn't mean it will happen, but it's easily envisioned.
Is it hard to imagine Jeter bursting out in a fit of negativity and blaming the media? Yes, it is, but it was just as hard to imagine that two years ago with David Ortiz, who shrunk from all the pressure and cracked several times, turning from the happy-go-lucky slugger he once was to a moody DH avoiding reporters. Even now, he's not the same.
If Jeter continues to struggle, the media limelight will ratchet up to levels he's never experienced before, and it will all be negative. This is a man who is nearing 3,000 hits and has a three-year, $51 million deal in his pocket, but all that means nothing if he's not producing on the field. Add in fan and media pressure and it's a lot to work through. For now, Jeter is staying resolute as he told YES' Jack Curry Sunday that he does not believe he is struggling.
Despite Jeter's poor start off a concerning 2010, it's not time to write him off. The previously mentioned Ortiz is proof of that, but unless things click soon, he may not be able to avoid the fact he's struggling. No one else is.
For more baseball news, rumors and analysis, follow @cbssportsmlb on Twitter or subscribe to the RSS feed.