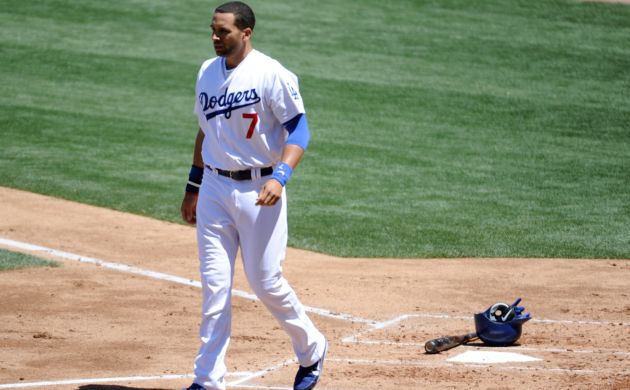 By Evan Brunell
Dodgers manager Don Mattingly is so sick of seeing James Loney loft fly balls into left field for an easy out that he's decided to fine the first baseman a dollar per left-field fly out. (Loney will earn a buck per lineout.)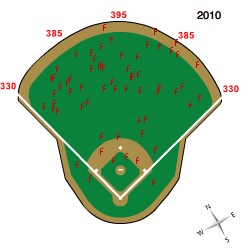 Mattingly is trying to get Loney to square up the ball to pull it or rifle a line drive to left. The 26-year-old -- who turns 27 in a matter of days -- is hitting a disappointing .202/.233/.239 on the year. Given Loney is not known for his power with sub-.400 slugging percentages the last two seasons, his lack of average and OBP is truly concerning. He was already a below-par first baseman, but with his decrease in plate discipline, has become an outright liability.
Interestingly enough, Loney's fly-ball percentage has actually decreased, with the difference going to groundballs, which now compromise 50 percent of his batted-ball profile. No wonder he's doing so terribly -- when you can only muster a weak groundout to an infielder, you won't get a hit.
But those flyballs remain problematic nonetheless. For Loney to loft a flyball to the opposite field, it means he's not squaring the ball up properly and hitting the ball near the end of the bat, or getting under the pitch. He's already lifted six fly balls in Dodger Stadium in 16 games to straightaway left field, while he only sent 13 in that direction last season in 80 games. (Spray chart of flyballs, right, courtesy MLB.com.) Way too many easy outs.
Loney's problems are compounded by his strugles against same-handed pitchers. Facing southpaws has given Loney fits so far this year, as he's slashing just .125/.120/.245 against them, compared with career numbers of .256/.314/.371. Not exactly scintillating numbers, but a darn sight better than what he's thrown up thus far.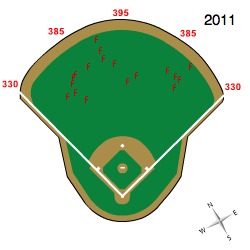 Loney's making close to $5 million this season and would command a raise in his final year of arbitration next season even if he continues to flop majorly, as long as he receives ample playing time. That's a major negative of the arbitration process, and it's difficult to imagine L.A. going that route again after already biting the bullet.
Once upon a time, Loney actually did slug. His rookie campaign of 2006, when he received 111 plate appearances as a 22-year-old, came with six doubles and four home runs. He kept that up the next year with a .538 slugging percentage in 375 PA, bashing 15 home runs -- but he hasn't reached that number since. The next year, he sent out only 13 balls but managed to stay respectable with a .434 slugging percentage in 651 PA. It's been downhill since, and he only just cracked double-digits in homers for 2010 by sending one out September 28. It's not as if he contributes offensively in other areas, either; his batting average has decreased every season from 2007 to last year, bottoming out at .267. With a merely average eye, his OBP didn't help matters either at .329.
Loney's already losing time against lefties with Jerry Sands taking over first, allowing Marcus Thames to continue platooning out in left field. If he doesn't turn it around soon, the Dodgers won't hesitate to bench Loney and find a different solution. Loney simply isn't in the position to justify being consistently run out onto the field. Yes, he's only just turning 27, and is plenty young, but he's had three full years of minimal power and offense and is overpaid at almost $5 million a year. Defense only takes you so far, and right now, Loney is not deserving of a starting spot.
For more baseball news, rumors and analysis, follow @cbssportsmlb on Twitter or subscribe to the RSS feed.