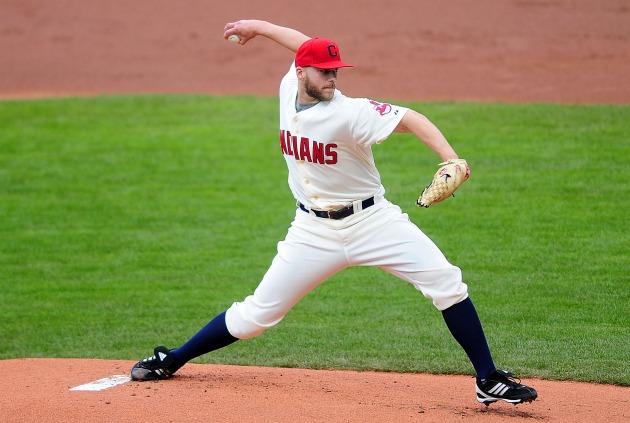 By Evan Brunell
With one day in the books in baseball's second month, the division leader of the AL Central has gotten off to a commanding 19-8 start, building up a 4 1/2 game lead over the second-place finisher.
Except second place is Kansas City, which is odd enough. Even odder is who is atop the Central in the Cleveland Indians, who are 9 1/2 and 10 games, respectively, ahead of the White Sox and Twins, the trendy picks to win the division in the offseason.
So far, the Indians' dominance is no fluke; they're tied with the Rangers for the AL lead in runs scored with 146 and also boast the league's third-best ERA. They're doing all this with the second-youngest roster in baseball with an average age of 27.8, and that number could get dragged down as the months go on if they promote top prospects Lonnie Chisenhall and Jason Kipnis to man third and second, respectively.
How have the Indians pulled all this off with a roster that was projected to lose over 90 games?
Simply, the Indians have benefited from production out of left field that isn't going to hold up over the entire season. Justin Masterson, for example, is doing his best Derek Lowe impersonation and has rocketed off to a 2.25 ERA start, going 5-0. Another hot performer is Josh Tomlin, who has one less win than Masterson and has registered a 2.45 ERA.
"The biggest question mark," closer Chris Perez said of the Indians coming into the season to MLB.com, "was getting quality starts, [Nos.] 1-5, and we've done that."
But here's where red flags pop up. Masterson, if he has indeed finally learned how to neutralize left-handed batters, could have taken the next big leap forward toward becoming a top starter in the league. But even if he's taken that step, a 2.25 ERA just isn't sustainable and will backslide at least a full point. Tomlin, for his part, is due a serious regression shortly. Last season, he posted a 4.56 ERA and 4.76 xFIP in 12 starts. This year, those marks are at 2.45 and 4.02, respectively. While one may have to start buying into Tomlin as a solid starting pitcher despite an 87-mph fastball, any ERA under 4.00 means Tomlin is pitching over his head.
The outlook is rosier when you turn to the hitters. Travis Hafner's .342 average simply isn't sustainable, but he remains a quality bat while Asdrubal Cabrera has jumped out to a quick start along with Grady Sizemore. These performances are far more believable, and even if some hitters regress, it will be offset by the emergence of catcher Carlos Santana and right-fielder Shin-Soo Choo once those two kick into gear. Choo and Santana are both attempting to keep their OPS's above .700 when they should be breaking .800 without a sweat. That will happen by the end of the season.
"We're not putting godly statistics up there," backup outfielder Shelley Duncan said. "And we still have a couple guys who haven't really started hitting, and we still have some young guys who are going to get better and better."
Some of those young players include Matt LaPorta, a key player in the CC Sabathia trade way back in 2008. LaPorta has failed to live up to his billing so far, but may finally be ready to cobble together a quality season at age 26, already knocking out four homers and slashing .263/.344/.513.
So yeah, the offensive production of Cleveland looks like it will hold up well, but despite a strong bullpen to date, the starting pitching looks due for a serious regression. The offense will be able to cover that up to some degree, and Alex White could end up being the team's saving grace, but for now, that can't be assumed. Currently, the Indians shape up to be a team with a talent level that of a .500 ballclub or a shade under.
Here's the rub, though -- you can't backdate true talent. That 19-8 record is in the books and cannot be changed, period. Even if the Indians play to .500 caliber the rest of the way, you're looking at around 86 victories total. That's plenty enough to capture the AL Central the way things are going. Last season, the Twins took the division with 94 wins (and that's not happening again this year) while the White Sox took second with 88 victories.
Right there, it's clear Cleveland will contend into September unless they experience a sudden and massive decline back to being a 90-loss team, but that looks out the window at this point. In addition, if the Indians are in the hunt in late July, you have to figure the club will be buyers in the trade market and could supplement the team that much more.
"Everything's really falling into place for us, if you look at it," Perez said. "It's there for the taking, but it's not going to be easy. ... It might be one of those five-team races where nobody is really leading the pack. That's why it's nice coming out to this great start, because if we do stub our toe, we could still be there.
"That's all we can ask for is to have a chance."
For more baseball news, rumors and analysis, follow @cbssportsmlb on Twitter or subscribe to the RSS feed.