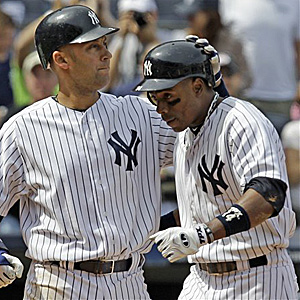 By Matt Snyder
I hate talking about pace in the first week or two of the season, but we're more than a month in and should be starting to get an idea of what guys are going to do in 2011. Sure, there are some things that will change over the course of the remaining five months, but not everything. Last season,
Jose Bautista
came from virtually nowhere to hit 54 home runs.
Curtis Granderson
has much better pedigree at this point in his career than Bautista had last season, but might he replicate the power surge? He's presently on pace for 51 home runs and 116 RBI. Let's take a look at whether or not that could keep up.
An interesting parallel between the two is that Bautista made a change to his swing that led to a hot conclusion in 2009 and propelled him into 2010 (and that's where the parallels end, considering Granderson's hit at least 19 home runs every year as a full-timer while Bautista's previous high was 16). Granderson tweaked his swing in the second week of August last season, and closed the season with 14 home runs in his final 46 games. He's carried that over into 2011 and has 22 homers in his past 71 games. Only
Troy Tulowitzki
and, yep, Bautista have more bombs in that stretch. And 71 games is not a trivial sample. Granderson is really locked in right now and swinging a power bat.
The question is, what can we expect the rest of the way?
I'd expect a career-high in home runs and I believe he's going to approach 40. In fact, I'll predict exactly 40.
He got to 24 last year with an awful start. He hit 30 the previous season while playing half his games in a pitcher's park. Now he's playing in Yankee Stadium, which is unbelievably friendly to left-handed power hitters. He's got loads of protection in the
Yankees
lineup, so teams aren't going to stop pitching to him -- and we know he'll keep swinging, as his walk rate is the lowest it's been in years. Looking at his ground ball, fly ball and line drive rates, nothing is overly different than the rest of his career -- he's hitting more fly balls than ever before, but the increase is very slight. One area that looks odd is his home runs per fly ball. He's hitting a home run on 24.2 percent of his fly balls. His career rate is 12.9 percent. Some of this is because of the short right porch in Yankee Stadium -- though only four of the eight homers came at home -- but some of it is bound to come down.
There are other factors to consider, too. He's improved against left-handers. He's confident. He's no longer feeling the pressure of winning over his new home fans. The team is winning.
Add it all together and everything except that pesky HR/FB figure points to Granderson keeping up the pace. That's why I'm calling for around 40 home runs, not 51. Still, if Curtis Granderson reached 40 home runs, it would be one of the bigger stories of the year.
For more baseball news, rumors and analysis, follow @cbssportsmlb on Twitter or subscribe to the RSS feed.