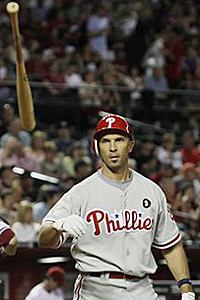 By Matt Snyder
Raul Ibanez
has now gone 10 games without a hit. He's been removed from Sunday night's game against the
Mets
with another 0-4 next to his name. Ibanez has now gone hitless in his past 34 at-bats over the past 11 games (on April 18, he got a hit, but it was followed by three hitless at-bats). That has lowered his season batting average to .154 with an on-base percentage of .228. He's not getting around on mediocre fastballs. He's not really hitting many balls hard. He just looks, well,
old
.
And that's because he is. He's turning 39 in just over a month. It's easy to hear that age and think players should still be productive because in the PED era, players like Barry Bonds were very productive at that age. But in this day and age of testing, players are beginning to deteriorate pretty substantially once they get north of 37 -- if not a bit sooner. In Ibanez's case, he fought it off admirably with an incredibly hot early 2009, but that's long in the rearview mirror by now. You can try to use advanced metrics like BABIP or HR/FB to try and say a correction is coming, but that wouldn't be prudent. He's not hitting the ball hard, so of course his average on balls in play is low. He's lost a lot of power due to age, so of course not near as many of his fly balls are leaving the yard.
He's cooked. He's overmatched. Stick a fork in him. The sooner the
Phillies
admit it to themselves, the sooner they can pass the torch to a future star:
Domonic Brown
.
Brown is recovered from a broken bone in his hand and has recently completed a minor-league rehab assignment. The Phillies activated him but then optioned him to the minors, seemingly to get a bit more seasoning.
Brown's a good power-speed combo who should be ready to handle major-league pitching. In his first three minor-league games this season, he hit .500 with two homers and two steals. He's going to be a right fielder and Ibanez plays left, but
Ben Francisco
can slide across the outfield and maximize the Phillies' offense. And it's not like they'd be losing anything defensively in replacing Ibanez anyway.
John Mayberry
could then be the fourth outfielder with Ibanez simply being a left-handed pinch-hitter until he's out as a free agent after the season.
For the Phillies sake, the move better be sooner than later, because Ibanez is a black hole in that lineup and the
Marlins
don't seem prepared to give any breathing room atop the NL East.
For more baseball news, rumors and analysis, follow @cbssportsmlb on Twitter or subscribe to the RSS feed.