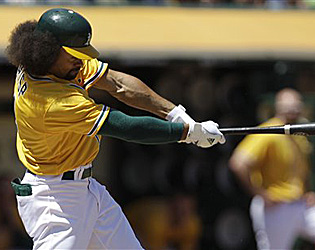 By Matt Snyder
For the second time this season,
Coco Crisp
-- an Eye on Baseball favorite -- took out his dreads and showed a gigantic afro reminiscent of Oscar Gamble in the 1970s. Last time was only for one game. This time around, his solid day at the plate may just prompt Crisp to keep the thing fanned out for quite a while.
"As long as you're getting on base you can go out there with a half-bald head or long hair or whatever," Crisp said after the game. "[Manager Bob Geren] was pushing me toward the ponytail but the guys were like, 'Man, you spend all that time taking your braids out you might as well let it flow. I did, and it worked out."
Crisp had been hobbled by a minor quad injury and returned to the lineup Sunday. He sparked the A's offense in going 2-5 with a double, run and RBI en route to a 7-3 win. They A's are now 14-14 and two games out of first.
But enough of that. It's all about the hair.
Obviously
that's why Crisp hit the ball well, so he
has
to keep it, right?
Plus, it just cements him as one of baseball's best characters. Remember,
he's the fastest player in baseball
and second-fastest in the world -- behind "the lightning bolt." He was a really
cool podcast guest with C. Trent Rosecrans and I
. Oh, and he
mans center field for my All-Name team
.
The afro really just completes the entire ensemble, so it must stay. Please, Coco, do not go back to the dreads.
For more baseball news, rumors and analysis, follow @cbssportsmlb on Twitter or subscribe to the RSS feed.