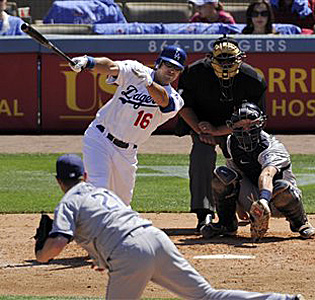 By Matt Snyder
Leading off the bottom of the seventh,
Andre Ethier
reached base on an infield single as
Padres
' first baseman
Brad Hawpe
was unable to corral the hard grounder down the first base line. It was the right decision to rule it a hit, as it would have taken a pretty great play by the diving Hawpe to get Ethier at first. (
Watch it by clicking here
)
With that hit, Ethier extended his league-best hitting streak to 27 games. He's now starting to get close to territory where it's going to factor in historically. There have only been 53 hitting streaks in major league history that lasted at least 30 games (
Baseball Almanac
). The most recent was
Ryan Zimmerman
in 2009, who had his streak last exactly 30. The longest streak this generation was
Jimmy Rollins
' 38-gamer, which was split between 2005 and 2006. The major league record is 56, by Joe DiMaggio in 1941, the NL record is 45 by Wee Willie Keeler in the 1890s and the
Dodgers
record is 31, by Willie Davis in 1969.
Aside from that streak extension, though, the star of Sunday's Dodgers-Padres tilt -- which the Padres won 7-0 -- was Padres starting pitcher
Dustin Moseley
. Maybe it's time we start paying attention to him.
Remember, the 0-3 record isn't his fault -- and one of a million reasons I hate judging pitchers on record -- because he entered Sunday with a 1.99 ERA and 1.11 WHIP. After seven shutout innings where he only allowed two hits other than Ethier's infield knock, Moseley's ERA had crept down to 1.81 (and, hey, he finally got a win!). Sure, peripheral measures suggest he's had some good fortune thus far, but 44 2/3 innings isn't the smallest of samples.
Moseley is having a great season, and it's time to take notice -- even if we were only paying attention because of someone else's hitting streak.
For more baseball news, rumors and analysis, follow @cbssportsmlb on Twitter or subscribe to the RSS feed.