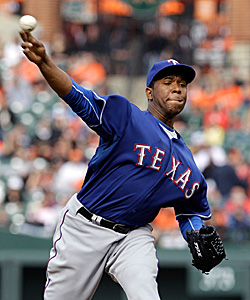 By Matt Snyder
Rangers
closer
Neftali Feliz
has been shelved the past several weeks with rotator cuff inflammation in his throwing shoulder, but he appears close to coming back. In fact, he's planning on making his return Friday, as he felt no side effects from a Saturday evening bullpen session.
"He feels he can pitch in a game right now," pitching coach Mike Maddux said. (
MLB.com
)
Feliz will throw again Monday and if there are no setbacks, he'll take a very short minor-league rehab assignment.
Oh, while we're here, let's freak out sabermatricians.
Feliz doesn't want to ever be anything but a closer.
"I'm a closer now, and God willing I'll remain a closer the rest of my career. I made the decision that I won't start anymore," he told
USA Today
.
Part of his reasoning is that he believes his current arm injury stemmed from going back and forth between being a back-end reliever and stretching out to be a closer.
"The team has told me that next year I would still have the chance to start, but I don't want to do it anymore,'' Feliz said. "This year my arm didn't feel good after they moved me from the rotation back to closing, so I don't want to go through that again and risk the same thing happening.''
The argument goes like this: It's a waste of resources to have a pitcher with the ability of Feliz limited to only about 70 innings a season when you could eventually get around 200 innings out of him. The closer people will say the last three outs are the hardest to get in any game and you have to have someone with the proper mindset back there to finish things off. They'll point to
Mariano Rivera
being a cornerstone of the
Yankees
' dynasty -- the last one in the sport.
The best part about the argument is neither side will give an inch. They'll fight to the proverbial death and use all kinds of "evidence" to back up their side (one side with numbers only, the other side with anecdotes only).
And Neftali Feliz is going to be at the center of the argument for quite a while.
For more baseball news, rumors and analysis, follow @cbssportsmlb on Twitter or subscribe to the RSS feed.