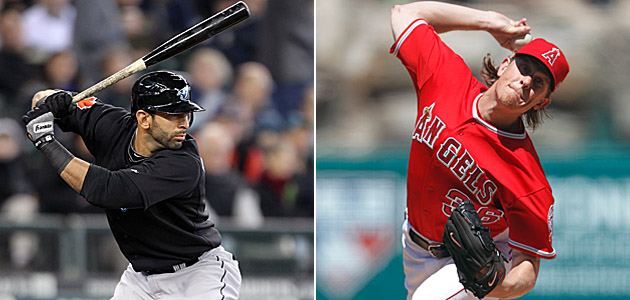 By Matt Snyder
April was a month chock full of big individual performances in the ultimate team sport.
April's Best
Expert
Batter
Pitcher
Knobler
Bautista
Weaver
Miller
Bautista
Weaver
Brunell
Bautista
Garza
Rosecrans
Bautista
Johnson
Snyder
Bautista
Weaver
Fantasy
Bautista
Weaver
It was a month when we saw
Andre Ethier
put together a 26-game hitting streak en route to a .380 batting average. We saw his teammate
Matt Kemp
storm out of the gate as hot as anyone and slug a few walk-off home runs.
Lance Berkman
and
Alfonso Soriano
have apparently discovered the fountain of youth, while
Alex Gordon
had a breakout month four years in the making.
Ryan Braun
and
Joey Votto
have hit the ball as consistently well as anyone in the game.
Matt Holliday
returned in less than two weeks from an appendectomy and continued to mash. In the Big Apple, veteran
Alex Rodriguez
and youngster
Ike Davis
have been raking.
Carlos Quentin
and
Troy Tulowitzki
had stretches where they were hitting everything in sight.
Ben Zobrist
had one incredible double-dip and young
Brett Wallace
is finally making good on his promise.
April was also a time where
Josh Johnson
dominated the entire NL.
Dan Haren
showed he can still be a staff ace, while
Michael Pineda
showed glimpses of his ace potential.
Matt Garza
learned how to strike guys out at a much higher rate than ever before, while
Roy Halladay
just continued to do what he's done for his entire career.
Alexi Ogando
and
Justin Masterson
have surprised in a good way, while
Jaime Garcia
and
Trevor Cahill
prove last year was no fluke.
Kyle Lohse
,
Aaron Harang
and
Josh Beckett
turned back the clock, while
Zach Britton
showed up a bit early. And what has gotten into
James Shields
?
April was about much more than everything above, but those are just a few of the players who have come through with exciting performances thus far in 2011 as we turn the calendar to May.
But above and beyond all else, in terms of individual players, April was all about
Jose Bautista
and
Jered Weaver
-- just look at the CBSSports.com staff awards for April's top batter and pitcher.
Batter of the Month
Danny Knobler
Scott Miller
Jose Bautista, Blue Jays
No top player in baseball had more to prove, because no other player had so many people asking whether he could repeat 2010. His major-league high 28 walks show the respect that comes with a 54-home run season, but his nine home runs and American League-leading .366 batting average show he's taking advantage when they pitch to him.
Jose Bautista, Blue Jays
Not only is Bautista leading the AL in both batting and homers, he's also leading in OPS and runs scored. Nobody matched his combination of average and production in the first month -- though Tampa Bay's Ben Zobrist gave it his one-day best during the doubleheader in Minnesota last week!
Evan Brunell
C. Trent Rosecrans
Jose Bautista, Blue Jays
Pitchers are rightfully terrified of Jose Bautista these days as he is delivering with a .366 average and nine home runs entering play Sunday. He's one of three qualified players with an OBP over .500. Overall, just a dominant month by someone who still had plenty of doubters. What are they thinking now?
Jose Bautista, Blue Jays
As unbelievably good as Bautista's 2010 was, his April of 2011 was not only better -- but significantly better. Not only does he lead the majors in on-base percentage (.532), slugging (.780), OPS+ (235), walks (28) and runs (25), while leading the American League in homers (9) and batting average (.366) -- he hasn't even grounded into a double play so far this year.
Matt Snyder
Fantasy -- Scott White
Jose Bautista, Blue Jays
His breakout season in 2010 was an incredible outlier as compared to his previous career numbers, but it most certainly wasn't a fluke. Bautista's numbers are showing he's one of the game's most feared sluggers, including an MLB-high 28 walks heading into Sunday.
Jose Bautista, Blue Jays
Not only did Bautista lead all of baseball in both slugging percentage and on-base percentage, but he led all hitters in Fantasy points -- and he did it despite missing half a week for a personal matter. That's one way to quiet the skeptics coming off his out-of-nowhere 54-homer campaign.
Pitcher of the Month
Knobler
Miller
Jered Weaver, Angels
It's hard not to pick Josh Johnson, who had us thinking no-hitter in nearly every start. But as Scott Miller pointed out in his fine column last week, only seven pitchers since World War II have gone 6-0 in their team's first 23 games with a WHIP under 1.00. I can't think of much that Johnson did wrong. I can't think of anything Weaver did wrong.
Jered Weaver, Angels
Weaver's WHIP (0.79) is ridiculous, and when a lineup as disciplined as the A's begin hacking at first pitches because they know they don't have a chance if Weaver gets ahead -- as the Athletics did last Monday night -- you know it's a special guy.
Brunell
Rosecrans
Matt Garza, Cubs
Garza is 1-3, but that doesn't mean he's awful. His 1.98 xFIP leads baseball along with an 11.87 K/9; his peripherals suggest he's actually been unlucky so far, too. He's baseball's hottest pitcher hidden behind a won-loss record that does not reflect actual pitching performance.
Josh Johnson, Marlins
It wasn't until his sixth and final start of April -- on the last day of the month, no less -- that Johnson had allowed a hit to any batter the first time through the order. He took a no-hitter into the seventh inning on opening day and took a no-no into the eighth in third start. His 3-0 record and 0.88 ERA are only the tip of the iceberg when describing how good he was this month.
Snyder
Fantasy -- Al Melchior
Jered Weaver, Angels
Very tough to pick someone other than Johnson here, but I give the nod to Weaver based upon his having thrown more innings, complete games and strikeouts with less walks in the same number of starts. Otherwise, they're basically identical and have been completely dominant.
Jered Weaver, Angels
Josh Johnson may have a slightly lower ERA, and Roy Halladay may have a better strikeout-to-walk ratio, but nobody has been closer to perfection than Weaver. All six of his appearances have been quality starts, and he has allowed more than one run only once.
Danny Knobler and Scott Miller are Senior MLB Writers; Evan Brunell, C. Trent Rosecrans and Matt Snyder are Eye on Baseball Bloggers; Al Melchior is a Fantasy Data Analyst; and Scott White is a Fantasy Writer.
For more baseball news, rumors and analysis, follow @cbssportsmlb on Twitter or subscribe to the RSS feed.