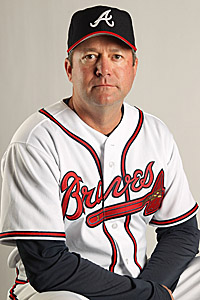 By Matt Snyder
Braves
pitching coach Roger McDowell has been suspended for two weeks without pay and fined an undisclosed amount by Major League Baseball for an incident that occurred April 23 at AT&T Park in San Francisco. The suspension is retroactive to April 29, when McDowell was placed on administrative leave by the Braves.
On April 23
, when the Braves were on the road to play the
Giants
, McDowell asked a group of male fans, "are you a homo couple or a threesome" while also using a baseball bat to simulate a sexual act. When Justin Quinn -- a father who had two nine-year-old girls with him -- noted to McDowell he didn't approve, McDowell said "kids don't [expletive deleted] belong at the baseball park" and then grabbed a bat and said "how much are your teeth worth."
Commissioner Bud Selig released the following statement:
"Major League Baseball is a social institution that brings people together and welcomes all individuals of different races, religions, genders, national origins and sexual orientations into its ballparks. Conduct by people associated with MLB that shows insensitivity to others simply cannot and will not be tolerated. I understand that Mr. McDowell is very contrite about his conduct, and hopefully this incident will be used to increase public awareness of the importance of sensitivity to others. I commend Justin Quinn and his family for bringing this issue to our attention so that it will not happen again in the future."
As Selig alluded to, McDowell did apologize. He's also expressed desire to meet Quinn and his family and personally apologize.
"I understand the decision made today by the commissioner," McDowell said in a statement Sunday. "I am embarrassed by my actions and I plan to give a personal apology to Mr. Quinn and his family. I would also like to offer a public and heartfelt apology to the fans of San Francisco, to the Atlanta Braves organization, my family and to Major League Baseball."
Braves president John Schuerholz said the team supports Selig's decision. "We were clearly disappointed in Roger's remarks and actions and the Atlanta Braves organization does not tolerate that kind of behavior," Schuerholz said. "The Atlanta Braves organization and Roger McDowell deeply regret that this incident occurred and again apologize to all involved, including Mr. Quinn and his family, and the San Francisco Giants and their fans."
Quinn seemed happy with the decision.
"I am pleased to see Major League Baseball imposing discipline on Coach McDowell for his actions," Quinn said, in a statement released by his attorney Gloria Allred. "I love baseball dearly and my family and I are now looking forward to getting back to the ballpark for another game."
Allred also noted the disciplinary measures "demonstrate that Major League Baseball believes that homophobic slurs, sexually lewd conduct and threatening behavior by coaches or any other person employed at a game in the major league will not be tolerated."
As part of McDowell's punishment, he will also be required to take part in a sensitivity training program. Braves minor league pitching coordinator Dave Wallace will serve as the pitching coach with McDowell away.
For more baseball news, rumors and analysis, follow @cbssportsmlb on Twitter or subscribe to the RSS feed.