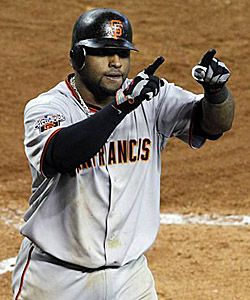 By Matt Snyder
Through 26 games, the
Giants
have scored 97 runs, an average of 3.73 per game. Heading into Sunday, only the
Pirates
, A's,
Twins
and
Padres
had crossed the plate fewer than the defending World Series champs in 2011. They've been shutout two of their past four games and things don't look to get any easier now with
Pablo Sandoval
going down (
Panda is out 4-6 weeks
).
Sandoval has easily been the Giants' best hitter this season. He's hitting .313 with a .904 OPS and five home runs, 14 RBI and 11 runs. He's filled the role of a big presence in the middle of the batting order as others have struggled. And now he's joining
Andres Torres
and
Mark DeRosa
on the disabled list. In his place, we're going to see an uptick of playing time for
Mike Fontenot
. The same Fontenot who has been a below average player every time he's ever been given more than spotty playing time.
With Sandoval down, you could actually make the argument the only place on the field the Giants will get above-average offense is behind the plate.
Buster Posey
is obviously a better hitter than the average backstop, but where else will the Giants get above-average production?
Cody Ross
in right field was a great story in postseason, but the fact of the matter is he only had a .322 on-base percentage during the regular season and he's never really been much more than an average hitter.
Aubrey Huff
was awesome in 2010, just like he was in 2008. And 2002-2004. But he was pretty terrible in 2009 and has been thus far in 2011. Maybe
Pat Burrell
in left field? He's got power and gets on base a decent amount of time, but if he's the big bat in the order, that's a problem.
Basically, the offense has been bad thus far for the Giants and it's going to get a good amount worse in the upcoming weeks. In fact, it's bound to get ugly unless someone steps up and gets really hot (Huff, perhaps?).
The good news is the Giants still have
Tim Lincecum
and
Matt Cain
on the bump in addition to those gaudy rings from last season. That should be enough to tide fans over for the short-term.
For more baseball news, rumors and analysis, follow @cbssportsmlb on Twitter or subscribe to the RSS feed.